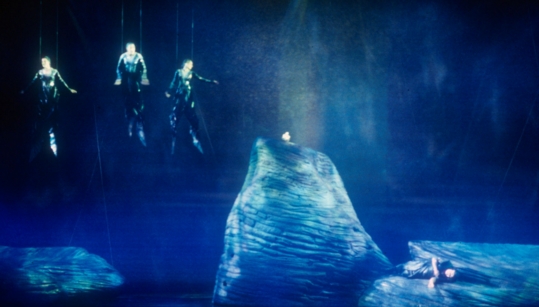 the Rhine maidens taunt Alberich [another cast, same harnesses]
What a trooper!
What an exciting diversion from the day job! How could you turn it down if the opportunity presented itself? And think of the stories for the grandchildren. Gina Lapinski saved the day for Wagner's "Das Rheingold" in Seattle on Monday by volunteering as a "fly-in" for one of the Rhine maidens.
The scene was the Seattle Opera at 4 p.m. Monday, only three hours before the curtain was to rise on a performance of "Das Rheingold" in the company's "Ring" cycle, running through Aug. 28. The mezzo-soprano Jennifer Hines, a New York City Opera regular who plays Flosshilde, one of the Rhine Daughters, called in, violently ill after eating fish at lunch. The first scene of this production calls for the three Daughters, behind a scrim and wearing a flying harness, to simulate swimming during a carefully choreographed 18 minutes (and after perhaps 100 hours of rehearsal) that takes them from 5 to 30 feet off the ground. To the rescue came Gina Lapinski, an associate director to Stephen Wadsworth and an assistant director at the Metropolitan Opera, who had been in charge of rehearsing the scene. The same size as Ms. Hines, she was able to wear her costume and harness, and after rehearsing once, perform before the audience. Speight Jenkins, general director of the Seattle Opera, said, "It was as though she had done the scene a hundred times." Sarah Heltzell sang the role from the pit, but Ms. Lapinski mouthed every word.
Huzzah!
Yeah, I spotted the story in the Times, [read the last two paragraphs] in the same box which announced, among other items, Madonna's riding accident, a nun protesting the filming of "The Da Vinci Code," and the sighting of a mechanical Loch Ness Monster.
[image from operajaponica]