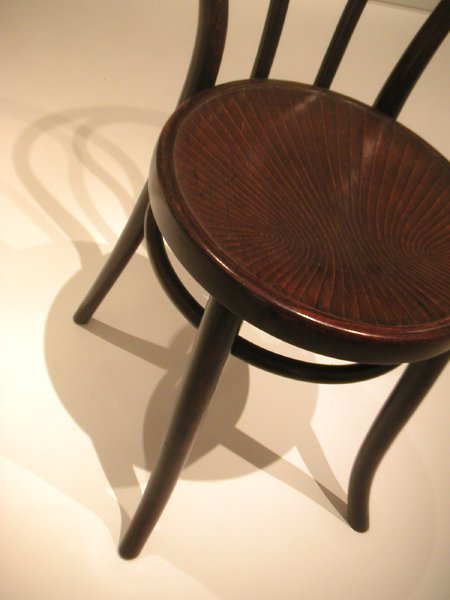 Gebrüder Thonet, company design Vienna Café Chair (no. 18) 1876 bent beech wood 33.5" x 17" x 20" [detail of installation]
One of my favorites in MoMA's Architecture and Design Collection is this simple chair.
Thonet patented the bentwood process, but their patent expired a few years before this chair was manufactured. D.G. Fischel Sohne was one of several Austrian firms ready to imitate their success with seductively-curved wood. Years ago, while acquiring modest colonial and federal Rhode Island furniture for my old house in Providence I managed to pick up a simple Fischel side chair very much like this Thonet for only a couple of dollars.
I appreciated its simple beauty from the beginning, but In Providence it had to wait upstairs in a small back storage room for years. In New York it has been able to join the very eclectic collection of stuff I've spread throughout our 1930's apartment. Now I admire its simple dignity every day, although I have to admit that it wouldn't have looked at all odd if I had mixed it with the skinny windsors in the little 1760's house from the start.