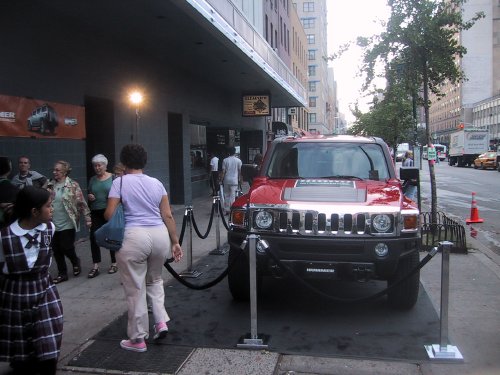 everybody into the streets!
They could hardly have come up with a petty outrage more perfectly designed to get me going. Hummer, blocked sidewalk, trashy action movie: Could anything be more civilized in a crowded neighborhood on a warm afternoon?
At 5 o'clock today I was walking west on 23rd Street across from my home when I saw a shiny Hummer facing me, almost totally blocking the sidewalk. Crowds of pedestrians were squeezing through the bottleneck it presented. The monstrous red tank was on a carpet, surrounded by chrome stanchions draped with black velvet ropes, and there were at least two spotlight towers positioned nearby. To add insult to this injury the parking spaces along the curb for a hundred feet ahead were blocked by traffic cones, apparently in order to keep a view of the Hummer clear for cars passing in the street (the prol's bus stop served the purpose in the area immediately to the rear).
I was told by a guy with "Star Theatrical Services" spread across his tee shirt that the car was a promotion for a film festival, but I suspect it was mostly only a promotion gimmick for a silly truck whose sales are currently plummeting, even if it was tied into some rude action movie playing in the multiplex behind it. There was no advertising other than a Hummer poster slappped on the movie house wall.
The guy also said they had a permit. That may be, but how does that happen in a city already choked by millions of cars routinely playing games with people on foot whenever they step into a street? I reported the installation to 311 anyway, for "impeding pedestrian traffic on a sidewalk", which I learned is the responsibility of the Department of Sanitation. The 10th Precinct said they'd send a car by. I'm not holding my breath.
UPDATE: As I was leaving our building just before seven, someone told me that Chelsea's Hummer show had been [taken down] just ten minutes earlier. That would put it a little over an hour after I called 311. No, I don't know if there's any connection. I just hope we don't see it there tomorrow.