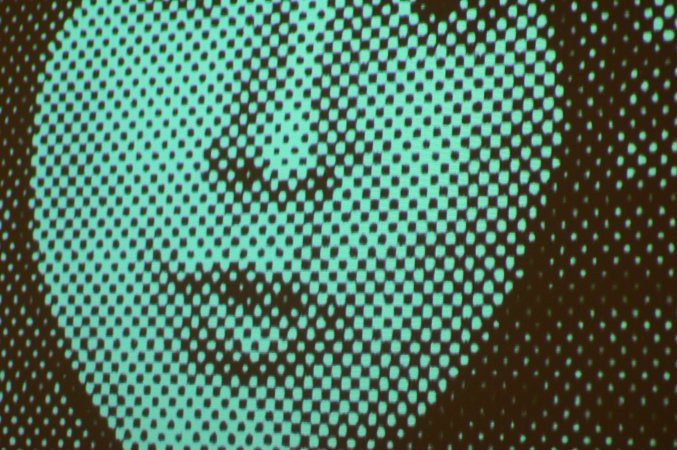 Cynthia Madansky P.S.A. #8 2005 DVD [large detail of still from video projection]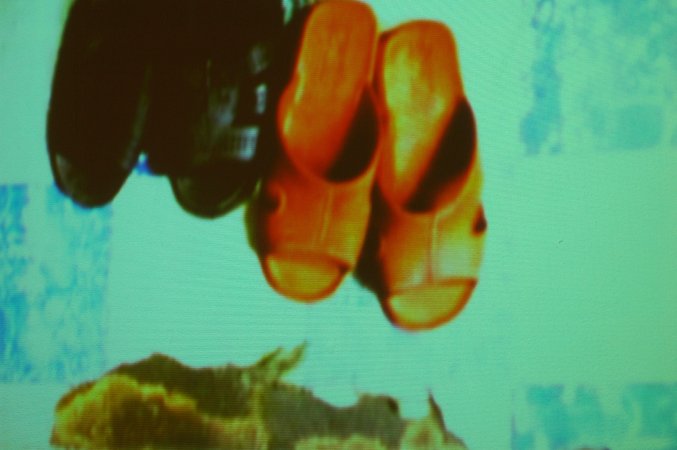 Cynthia Madansky P.S.A. #2 2005 DVD [large detail of still from video projection]
Even in a world which includes so many other galleries showing new work and new or little-known artists, a visit to a show at Momenta Art is always like inhaling a breath of fresh air. But that certainly doesn't mean they make it easy for us. The work shown in the little rooms on Berry Street is always smart, always new, never dull and never derivative, but this is a serious space and I think it's safe to say that nothing you will find there is ever going to be just pretty.
That said, I have to admit that the aesthetic of the current show in the front gallery and office area, of work by Cynthia Madansky, can survive very well without any notes. You're going to want to know more however, and even a quick look at the press release will do some service. These beautiful drawings are from three different series, their subjects being historical instruments of human torture, the contemporary violation of the landscape and our enduring destruction of self.
Inside the office area two of Madansky's gorgeous short films, from an ongoing series titled "Public Service Announcement," are continuously projected on one wall. Largely abstract in their imagery, they are a hauntingly beautiful protest against "the American occupation of Iraq and the act of war." The films were made in collaboration with Brad Wolfley and Elle Flanders, and the wonderful soundtracks were composed by Zeena Parkins.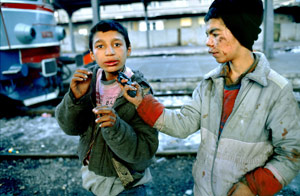 Robin Graubard This is War (Bucharest) 1995/2005 lambda print 16" x 20" (image
size 13' x 20") from the series "Black + Blue"
In the rear gallery Robin Graubard makes no attempt to seduce us. She has installed almost two dozen haunting, almost totally repellent photographic prints nakedly displaying the scars of neglect and violence borne by youths and children she has known or encountered in various brutal, yet almost entirely anonymous and interchangeable environments around the world. Think of Nan Goldin without any humor or joy, nor even a suggestion of conventional unconventional beauty.
[image of Graubard's print from Momenta Art]