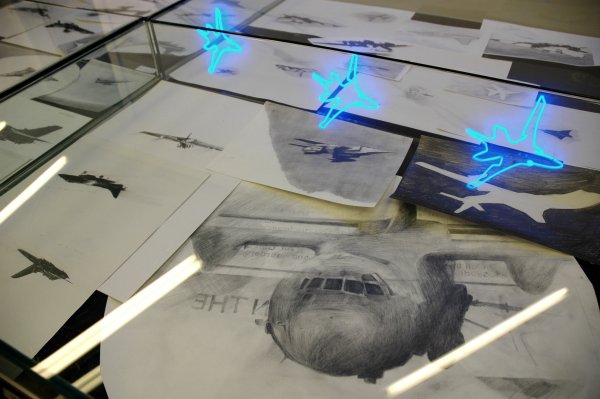 Fiona Banner [detail of installation, including various graphite drawings on paper and the reflection of the set of three neon sculptures, Backfire (a force of nature)]
As difficult as it may be to add superlatives to what this bookstore already means to the arts community, Printed Matter is making itself even more indispensable every time it integrates the work of a new artist into the corners of its wonderful shop on 10th Avenue.
Right now AA Bronson and his collaborators are sheltering Fiona Banner's installation, "All the World's Fighter Planes".
The work is striking and very smart. But as I think about the terrible, very dispensable inspiration for this work and the real-world scale of the monsters which appear here only in small representations*, I think I'm going to be sick again.
While there are sculptures, drawings, text works, source materials, a window installation and posters, appropriately for a bookstore it all starts with a matter of print.
The book, All the World's Fighter Planes 2006, is a compilation of found newspaper images representing every type of fighter aircraft currently in commission anywhere in the world. The name of each plane is listed on the front and back covers, 170 in all. The book compiles newspaper clippings of each of the different aircraft models. The clippings (as well as the aircraft) come in a variety of shapes and sizes, both small and large, some cut following the contours of the planes, others ripped carelessly from their source, some scattered haphazardly across the open pages, others in full page close-up.

*
with the single exception of this actual cutout from a trainer/fighter plane:

Fiona Banner Nature Painting 2006 cut metal section of Jet Provost 28.5" x 58" [installation view]