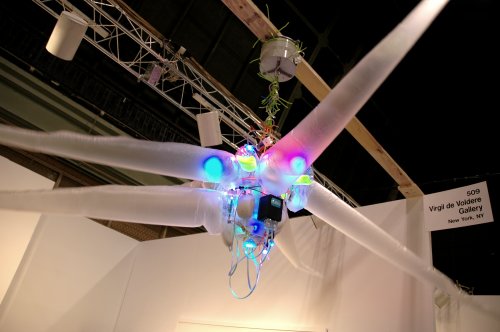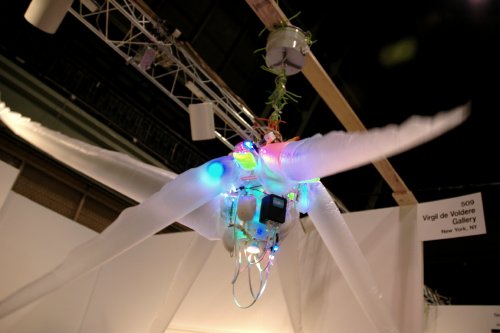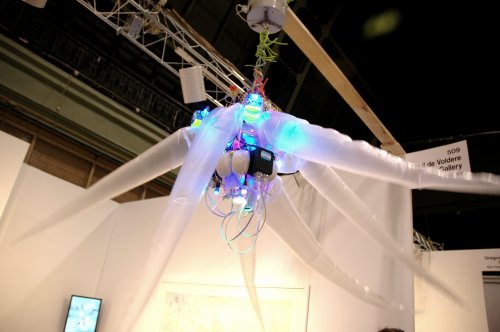 Shih Chieh Huang Rise and Fall of Civilization 2006 mixed media, dimensions variable in time and space [three views of installation]
Shih Chieh Huang's beautiful kinetic sculpture dominated Virgil de Voldère's booth at Pulse, and that's quite an accomplishment, since this dynamic young gallery's choices always seem to deliver both surprise and delight - if not simple amazement.
The artist was also represented by a smaller but equally lively piece suspended behind a partition, this one driven by two small computer fans: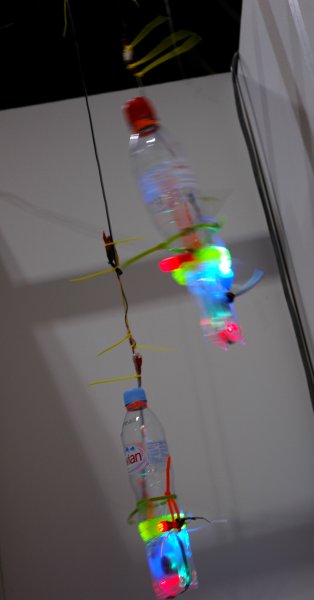 In this week's Village Voice R.C. Baker's mini-review of Huang's show in the gallery space (ends Saturday) manages to describe what the proverbial "mixed media" means this time:
Awash in black light and bristling with wires and cable ties, robotic creatures spring to life when motion and light sensors—some of the latter suction-cupped to huge blinking eyes on video screens—trigger computer fans that fill flaccid plastic tubes with air, creating wriggling tentacles and flapping wings. More fans, hung from the ceiling, and random radio scans add to the sensory overload of this Taiwanese-born artist's techno-geek fun house.