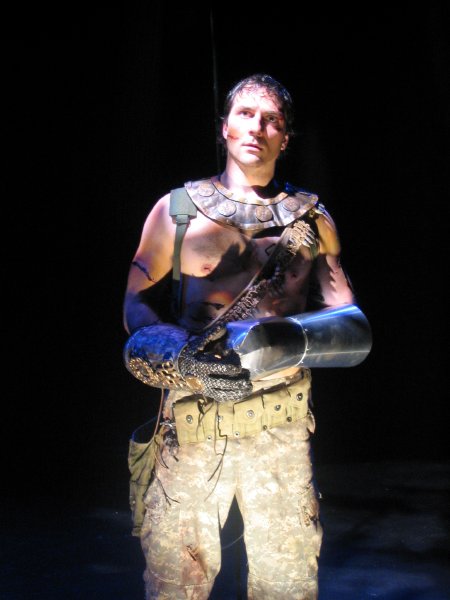 soldier Lewis, sung by David Adam Moore, has been dying in battle for two thousand years
Until the boy is asked his name David Adam Moore is called simply 'the Hunk' by Brine, our underworld guide in "Hell", an extraordinary new opera continuing this week at Performance Space 122.
This is our own "Inferno", and it's an almost perfect work by the composer Michael Webster and the poet Eileen Myles, and they are extremely fortunate in their collaborators. Yes, the libretto is brilliant and beautifully drawn by the composer, performed by a very good ensemble of eight conducted by Jonathan Yates, and brilliantly directed by David Chambers, but there are no weak links anywhere among those responsible for costumes, lighting, or video and stage design (I think this is just about the most successful video/stage integration I've ever seen), and I think the attractive cast couldn't have been better.
Barry has more.
Speaking of attractions, I've seen and heard Moore once before, playing the male lead in Gotham Chamber Opera's production of Purcell's "Dido and Aeneas" four years ago. I can vouch for the fact that the chest is not a prosthetic, and the tattoos and piercings were not done just for this role. The man is magnificent to look at, but his acting skills are tops and his voice is superb. I have no idea why it's still possible for an ordinary mortal to secure a seat only a few feet away from his frightening beauty.
[image by Beth Moore from PS 122]