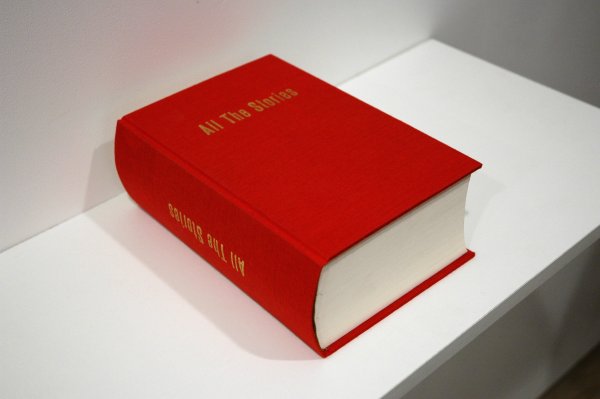 Dora Garcia All the Stories 2005 book (sample) 9" x 6" x 3" [installation view]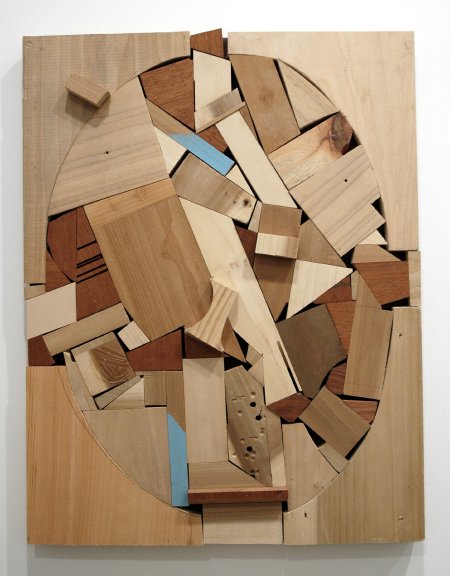 Donelle Woolford Number 1 Painting 2006 wood, screws, glue, latex paint 27" x 21" [installation view]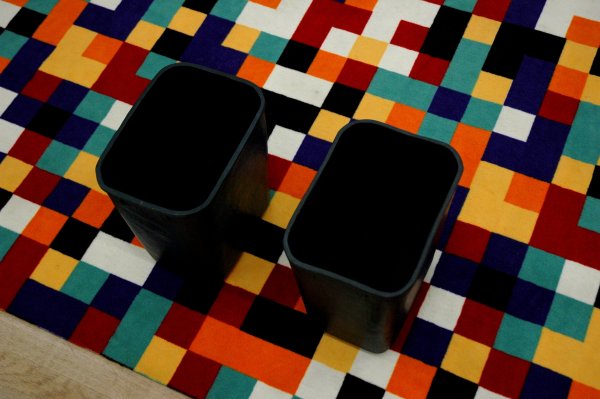 Conrad Bakker Untitled Project: Trash oil on [single blocks of] carved wood 12.25" x 8" x 10.75" (each), resting on Gerhard Richter wall-to-wall carpet designed for Vorwerk & Co. Teppichewerke GmbH & Co. KG 1991 polyester, polypropylene 52.5" x 149" [view of installation]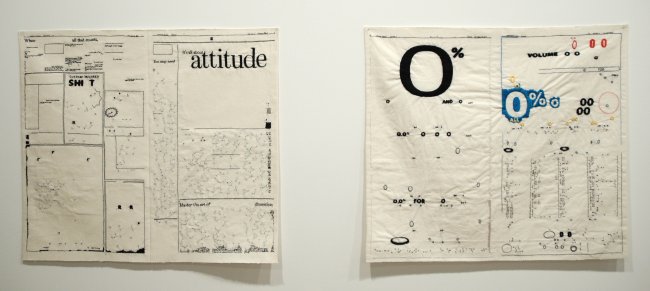 Karen Reimer Chicago Tribune January 20, 2002 (Custom Tailored Shit) 2003 embroidery 22" x 24" on the left, and Chicago Tribune September 29, 2002 (0%) 2003 embroidery 22" x 24" on the right [installation view]

Karen Reimer Untitled [notebook page corner] 1999 embroidery 3.5" x 2" [installation view]
Because of recent dramatic developments related to his work which are [more or less] outside of the exhibition itself I've done a separate post on one of the artists, Chris Moukarbel [see below], but there's no way I wasn't going to show some of the other excellent works in the current Wallspace group show, "Data Mining", which was curated by the artist Joe Scanlan.
"Data mining", as it has developed in sophistication into the first decade of the twenty-first century is described in the gallery's press release as an information gathering system which has become "one of the most pervasive, efficient and profitable ways for powerful entities to track and maintain their hold on things". We are reminded that the system operates largely by finding and measuring conformity and repetition and ignoring or discarding anomalies or abhorrent behaviors - precisely the territory of the artist.
The press notes continue with the observation that not all artists are interested in addressing this extraordinary and increasing concentration of power at the top, and that still others are simply not aware of the potential their own artistic creation may have for influencing what happens on the mountain - and in the valleys, where most of us live.
Luckily some artists believe their actions still matter, and think that a little research and a lot of leeway (and vice versa) can get noticed, maybe even be effective. Data Mining presents work by eight artists who take matters into their own hands by reframing aesthetics and retelling stories—in general, asserting their power as aberrant individuals inhabiting a conformist technology. Because their works draw stark contrasts between political content and modest creative means, all of the artists in Data Mining might be characterized as "folk politicians" or, if you will, "craft activists." Whether armed with video cameras or embroidery needles, glue guns or pocket knives, the artists in Data Mining aestheticize politics and politicize aesthetics.
It's an extremely smart show, gently provocative and beautifully installed.
The two artists represented in the show whose subversive contributions I have not been able to include in an image here or on the previous post are Jay Chung and [the voice of] Robert Smithson.