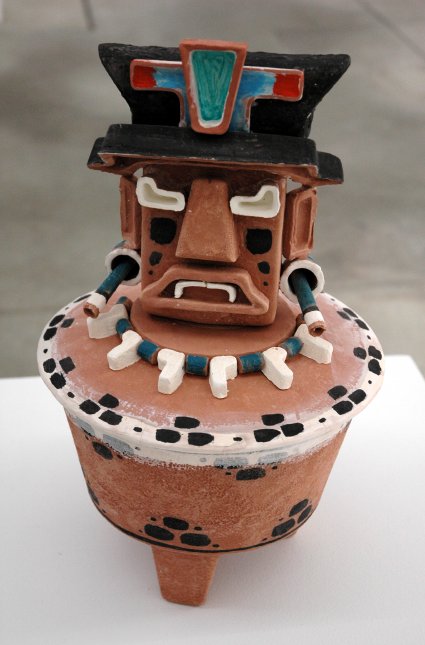 Steve Keister Vessel with Effigy Lid 2006 ceramic with glaze and acrylic 12" x 9" x 9" [installation view]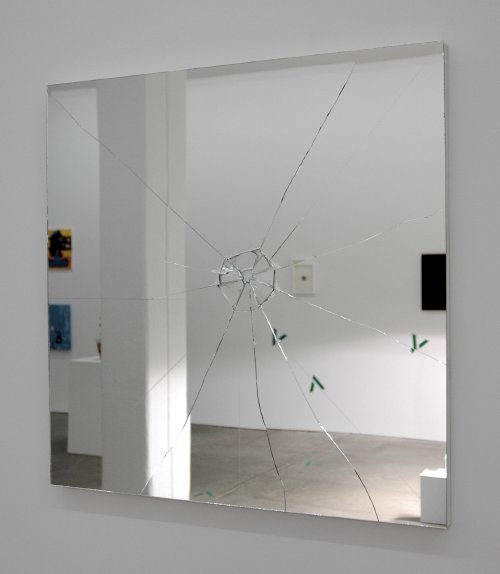 Josephine Meckseper Untitled (Dead or ALive) 2005 metal, mirror, wire, cardboard, jewelry and fur 35" x 16" x 13" [installation view, with works by Colin Thomson, Dike Blair and Curtis Mitchell, together with their arrow links, shown in the reflection]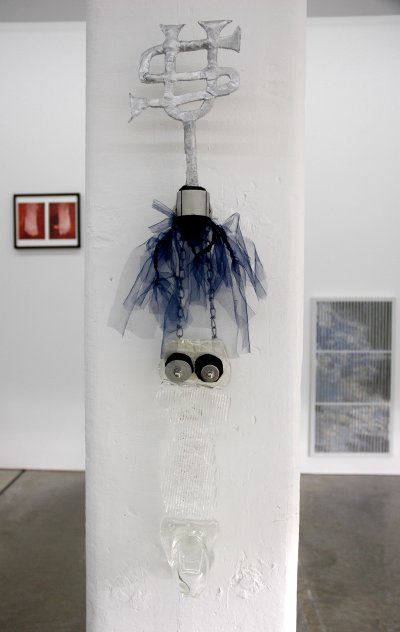 Sheila Pepe Dagny Taggart's Tulle 2006 glass, tulle, painted cloth and hardware 33" x 11" x 6" [installation view, with works by Julia Featheringill and Doug Wada in the background]
It's all pretty chummy and the links or connections are sometimes a big surprise. While I'm not sure how big a thing we can make of the presence of the artists or the works which ended up in the Andrew Kreps gallery last month, I think it's always a good thing to listen to artists talking about other artists - even if they're only pointing - and most of these pieces are really stunning. The show continues through this Saturday.
From the press release:
Andrew Kreps Gallery is pleased to present Two Friends and So On, a curatorial project by Jonathan Horowitz and Rob Pruitt. The organization of this show is dictated by an unpredictable movement of invitations through a social network of artists.

The first Two Friends and So On took place in 2000 at Andrew Kreps Gallery's 516 West 20th Street location. For the sixth anniversary of this chain link group show, Jonathan Horowitz and Rob Pruitt invited Jennifer Bornstein to be the first link in a chain of 30, then Jenny asked Chivas Clem, Chivas asked Meg Webster to be the third, then Meg asked Curtis Mitchell who asked Sheila Pepe who asked Dike Blair who asked Steve Keister who asked Jill Levine who asked Lindsay Walt who asked Colin Thomson who asked Andy Spence who asked Susan Wanklyn who asked Jessica Weiss who asked John Newman who asked Hermine Ford who asked Joanne Greenbaum who asked Robert Goldman who asked Michael Smith who asked Joe Zane who asked Julia Featheringill who asked Carl Ostendarp who asked Doug Wada who asked Josephine Meckseper who asked Ania Siwanowicz who asked Alisa Baremboym who asked Liz Wendelbo who asked Tamar Halpern who asked Eileen Quinlan who asked Pascale Consigny who asked HervÈ Ingrand.