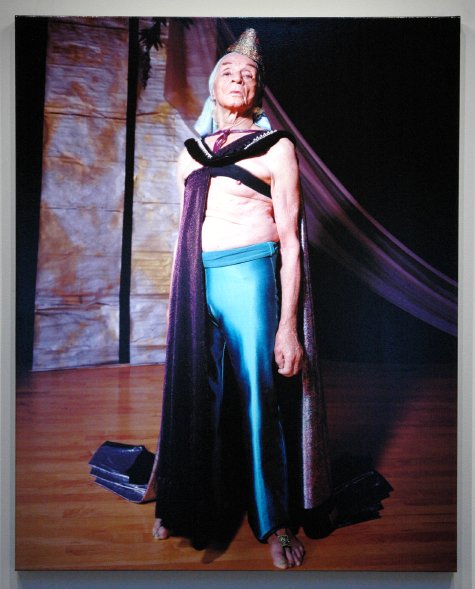 John Shimon & Julie Lindemann Barry (in Ghostly Prince Costume), Ladysmith, Wisconsin 2003 pigment print on canvas (from 8 x 10 transparency) 50" x40" [installation view]
Although John Shimon and Julie Lindemann's show at Sarah Bowen closes tomorrow, I'm sure they'll be back.
The work is very strong on its own, but what distinguishes these artists' accomplishment from so many other documentary or pseudo-documentary projects are the substantial clues located in the press release. In the end however it may be the sensitive, multi-media installation itself which reveals the most about what the separate images may only imply.
Excerpt from the press release:
Sarah Bowen Gallery opens the fall season with an exhibit of photographs and projections titled "It Takes One to Know One" by Manitowoc, Wisconsin artists John Shimon and Julie Lindemann. As a collaborative team, their work elegantly captures the flavor of the landscape and the quiet, melancholy realities of American rural and small town life. Their highly stylized photographs simultaneously evaluate and elevate their subjects as portraits of obscure Midwestern denizens, unnervingly comfortable with their small town identity, are rendered in inappropriately substantial platinum.

As photographers, the artists establish a subjective historical view; they become involved in situations, and respond to them. Their early captivation with Depression-era FSA photos, Edward Steichen's masterful gum prints, anonymous snapshots, and Robert Frank—who gave them the impulse to photograph everything in their path—has led them to a "new timelessness" in contemporary imagery and themes. Prints from large-format negatives rendered in gum-bichromate and platinum-palladium will be shown with tintypes, film shorts and full-color inkjet prints. The installation outlines the artists' exploitation of and preoccupation with process to unfold an anomalous narrative, swollen with experience.
Shows like this are the best kind of advertisement for the importance of the outer-borough gallery scene and for the fertility of creative communities beyond what we think of as our cultural capitals. Who knew what treasures were hiding in Manitowac or Sheboygan County, Wisconsin? This area in the northeast of the state is the American
Heimat
for both of my parents' huge extended German families; although I believe none of them have made a splash or a ripple in the visual arts, maybe I should have stayed in better touch with my 95 first cousins - or at least their progeny.