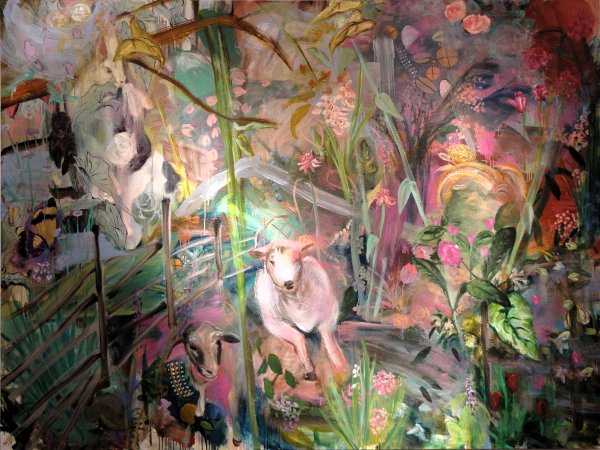 Claudine Anrather Dreaming Electric Sheep 2006 oil on linen 72" x 96' [installation view, very large detail]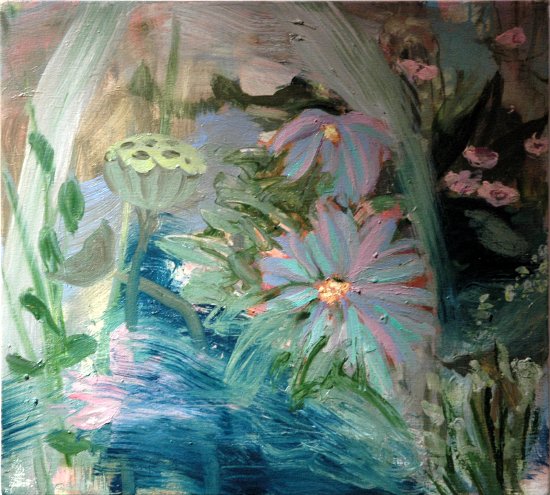 Claudine Anrather Flower 2006 18" x 20" [installation view]

31 Grand is showing some gorgeous paintings by Claudine Anrather through December 3 in an exhibition titled, "Beyond the Pale". The artist's medium-distance landscapes are painted in oil on both large and small canvases.
The colorful flora and fauna which adorn them are described by the gallery as the Austrian artist's tribute to the beloved mountains of her heritage, although her wonderful yet somewhat optimistic, rose or parti-colored lens doesn't quite obscure the tension and messiness which is a part of any real forest, and even more likely in a forest of the imagination. Here the mix is both intoxicating and a bit distrubing.
One very large canvas, not actually part of the show, was hung on the back wall of the office area. The work has not even been titled yet, but for reasons which include one magnificent dragonfly and the exceptional appearance of a solitary human face, I've decided to include it here.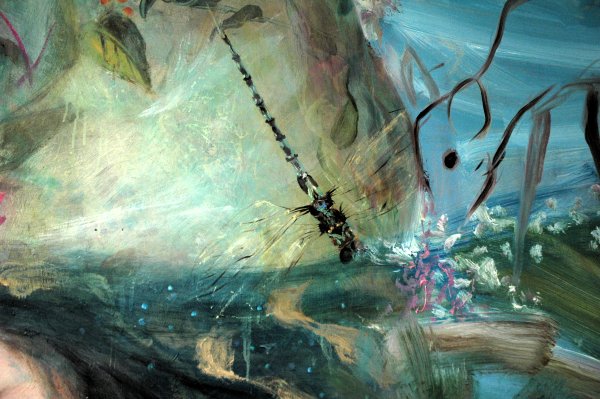 Claudine Anrather [title unknown at this time] 2006 oil on linen 60" x 90" [detail of installation]


[very large detail of above]