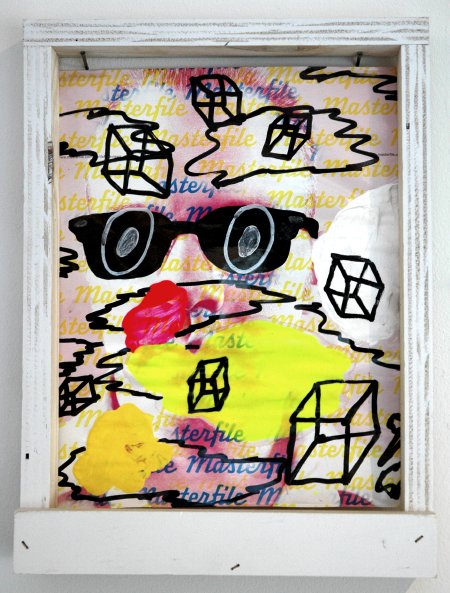 Peter Corrie Untitled (from suite of drawings, "No Time Swan" 2005-2006) mixed media, approx. 16" x 10" [installation view]
We have two more exciting blog reviews for "Dangling Between The Real Thing And The Sign In The Window". Short excerpts appear below.
Heart As Arena uploaded a review on November 6:

Susan's C. Dessel's "Our Backyard: A Cautionary Tale" gave me nightmares while I was looking at it. I didn't even have to wait for sleep. The piece had Abu Ghraib and Hurrica Katrina sharing the same set of synapses in my head, filling the gap with shame and anger and nothing good. When they start hiding the dead it falls to artists to dig up the bodies and throw them back on the road, and Dessel has a very strong arm. You can try to duck, but it won't help.
Two days earlier, on November 4,
Tom Moody
wrote:
Inside the gallery, the mood swings back and forth between the dire and the ebullient. . . . . Lots to like (and worry about) in this show.

Barry and I will be at the gallery for an hour or so around 7 this Friday (it's open 3-8 on Fridays) and from 3 to 6 on Sunday. This is the final weekend for the show, which includes the work shown above.