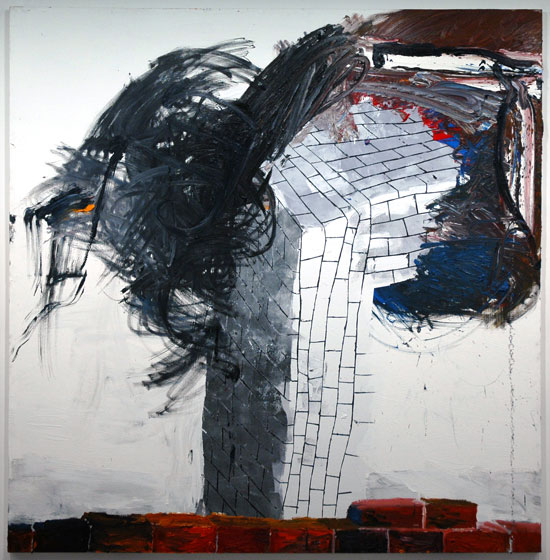 Andrew Piedilato Untitled 2006 oil on canvas 83" x 78" [installation view]
Sometimes in a group show there will be one piece that just jumps out at you. This is sometimes a totally subjective experience of a balanced show; on a return visit the work and the installation might look very different, but with 300+ galleries in Chelsea alone these days, the likeihood of a return may be only fantasy.
"The Sheltering Sky", the current show in Black and White's large 28th Street space, houses Andrew Piedilato's stunning, untitled 45-square-foot canvas. This very physical, semi-abstract painting is as beautiful as it is enigmatic. The semblance of an Escher-like brick wall/road suggests that while Piedilato might never let you into the space toward which it seems to be moving, he's also not going to leave you standing where you started out.
The work is part of a show of emerging artists whose title was borrowed from the novel by Paul Bowles.