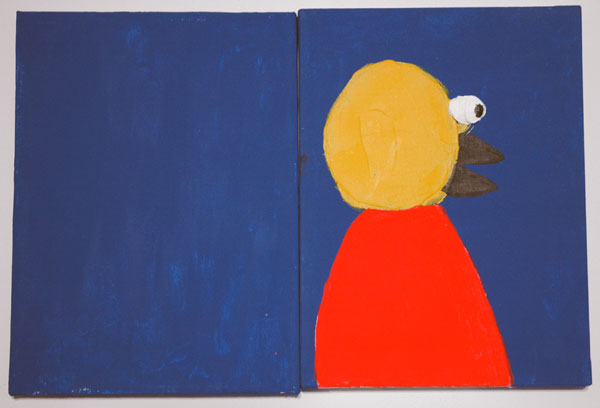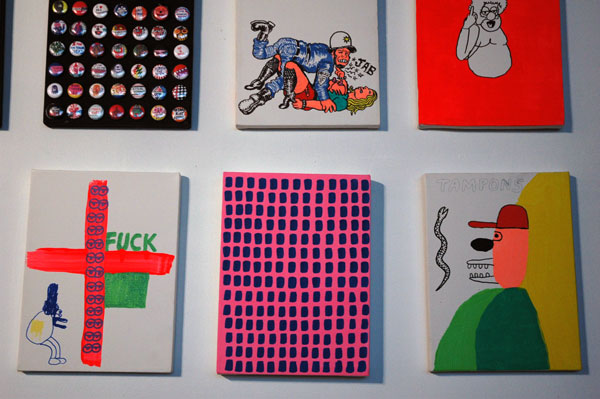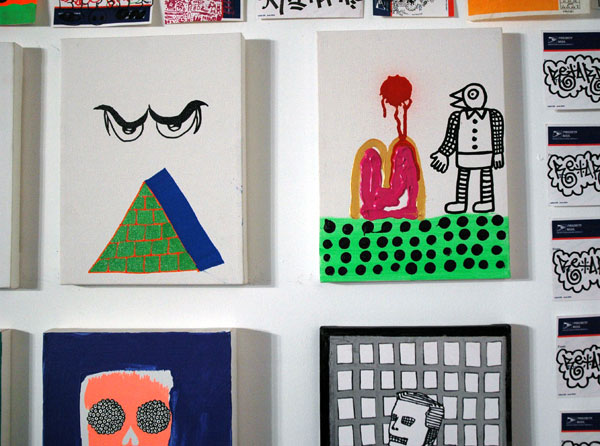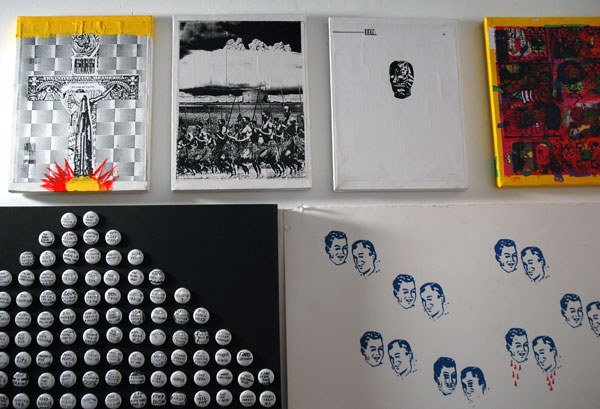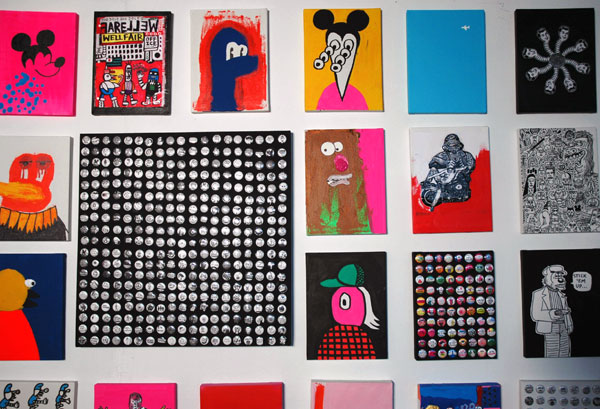 Noah Lyon's art (Retard Riot) has always been surprising, and that's no easy feat after more than a hundred years of modernism doing cartwheels and somersaults for our attention. Lyon has always worked differently from anyone else around, and the results were never predictable even within his own process. His art has also always been very much of the artist's own world, that is, very much alive and screaming inside the larger, dry and dysfunctional authoritarian husk which encloses all of our worlds; it remains what people who maintain they can compartmentalize their experience call "political", or "too political".
Lyon's latest work retains all of this good stuff, but two interesting new elements have been added: First, although he has begun to execute some very handsome prints after years of producing drawings and paintings, much of the recent, non-editioned work seems impatient with its confinement to only two dimensions (even examples from his continuing and almost ubiquitous button series are now often combined by Lyon as sculptures). Secondly, the art looks more beautiful than ever, even independent of the impact of what seems to be a keener interest in color and a more sophisticated treatment of it. Happily these development have only increased the volume of the raw intensity found in earlier work.
Barry and I paid a visit to Lyon's studio very recently and the images uploaded here suggest only a small section of two inside walls of his "workshop". They also fail to include anything from the box inside the box, a sort of magical, very densely-hung, animated "bear cave" the artist had constructed on an inside corner of his loft. I have no idea why I passed up the chance to record images of that space, but fortunately Slava did not.
For more information, and more images, go to "artists" on the site of Lyon's Stockholm gallery, Brändström & Stene.