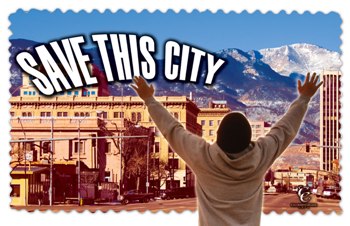 a new musical based on Colorado Springs, Ted Haggard, the evangelical movement, and US
I've been a little tardy in announcing two affordable benefits for performing arts groups that interest Barry and myself. I'm especially late with my The Civilians plug, as their show goes off tonight, but sometimes a last-minute notice can be as effective as any other, and there's still time to celebrate with this very sharp group.
Artistic Director Steve Cosson describes a bit of the origins of the group's work-in-progress, "Save This City!":
Three of us came out in June and went to New Life and I think the first time we really sort of got it, like "Oh! this really seems to be the center of America right now. I mean, you're in the middle of this church with 7,000 people and the minister is talking about his relationship to George Bush and Ariel Sharon and other world leaders. I think the world we come from knows that the evangelical movement is this big influential thing in politics, but they don't really have an understanding of the scope of it or what it means, or what that kind of Christianity really means, or what it is beyond its political effect on the national elections. And other than that they find it kind of scary and freaky.
Tonight's performance will include members of the company perfoming songs from the new show.
Jump here for a quick look at the 2005 benefit.
The independent playwright organization 13P is also having a cabaret benefit, eleven days from now, at Joe's Pub on April 29th. See their website for more details.
[image from newspeakblog, via The Civilians]