This has to be just a teaser, because of time constraints (we're off to Spain in a few days), but on a beautiful Sunday afternoon Barry and I made the rounds of several Williamsburg galleries, visiting one of them for the very first time (that's so embarrassing).
This post can't do justice to everything or anything we found, but it shows something of the quality and the variety of the current Brooklyn scene.
Tastes Like Chicken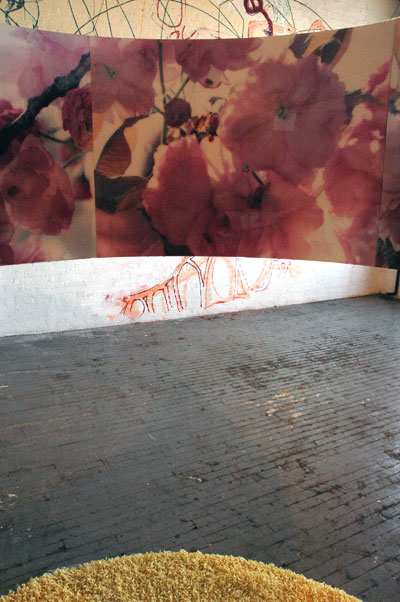 installation view showing Holly Lynton's construction, "Solid Air", in the foreground and Chris Burnside's "Installation" on the wall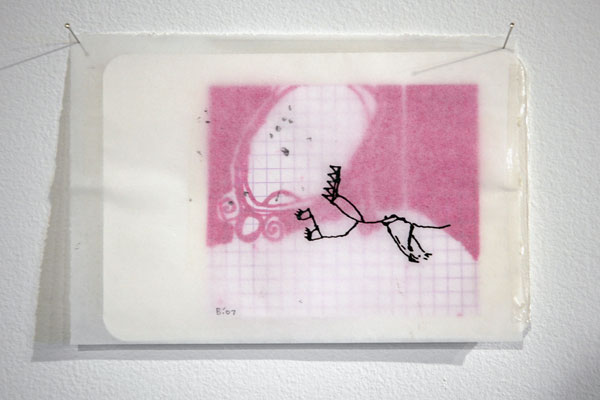 Beth McCaskey Untitled ink on paper 3" x 4.5" [installation view]
Tastes Like Chicken is showing "One Pill Makes You Small" in its two exhibition spaces, an installation curated by sculptor Sherry Bittle.
The artists include Chris Burnside, Diane Carr, Mario Camacho, Jeremiah Dickey, Charley Friedman, April Hannah, Paul Katzen, Michelle Loughlin, Holly Lynton, Beth McCaskey, Carolyn Monastra, Michael Rader, Kent Rogowski, Lance Wakeling, Mika Yokobori.
Dam, Stuhltrager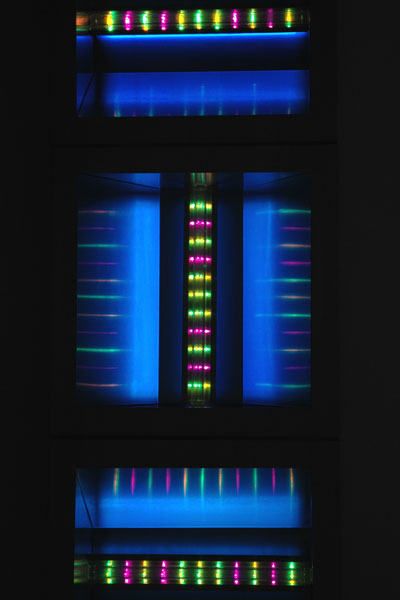 Carol Salmanson Upon Reflection: Column light-emitting diodes, electronic-ballast T4 fluorescent lights, gel filters, stainless steel, acrylic prism rods, electronic components, five pieces, each 21.75" x 21.75" x 10.5" [detail of installation]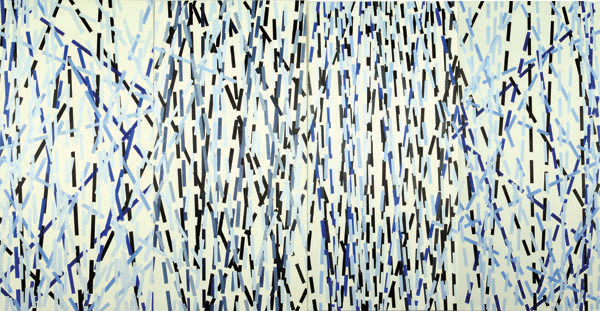 one of a series of acrylic paintings on circuit boards, 12" x 24", called "Reflections v.1-4" by China Blue
Dam, Stuhltrager has light installations by Carol Salmanson in the first two rooms of the gallery and an interactive sound installation by China Blue in the third, where there is also one painting. That image is not the one included above; instead I've captured a similar work from the artist's own site.
Cinders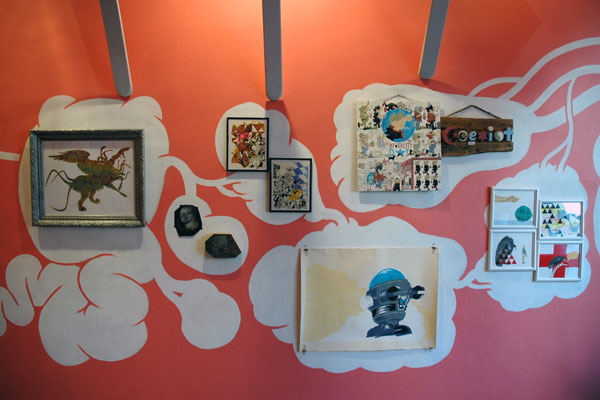 view of a part of Space 1026's installation, including work by O. Roman Hasiuk, Adam Crawford, Isaac Lin, Jesse Olanday, William Buzzell and Damian Weinkrantz (in clumps, left to right)


O. Roman Hasiuk's "Chimera" print, in artist's frame [installation view]
CInders has a show of work by Philadelphia's Space 1026 community, called "No Bad Blood", including work by Jason Hsu, Courtney Dailey, Ben Woodward, John Freeborn, Bill McRight, O. Roman Hasiuk, Crystal Stokowski, Jayson Musson, Jodi Rice, Jesse Olanday, Elena Nestico, Andrew Jeffrey Wright, William Buzzell, Damian Weinkrantz, Aryone Hoselton, Caitlin Perkins, Thom Lessner, Max Lawrence, Jesse Goldstein, and Mark Price.
Front Room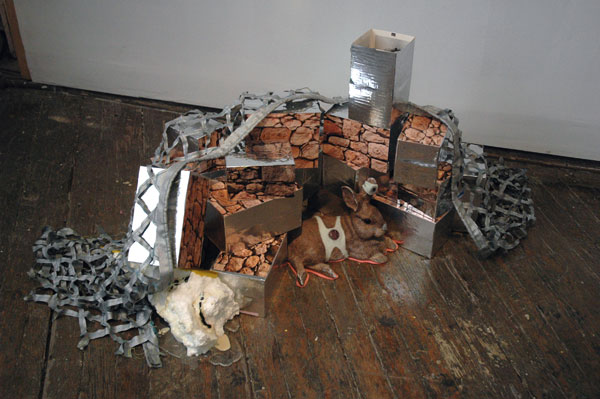 Melissa Pokorny Winter Day [installation view]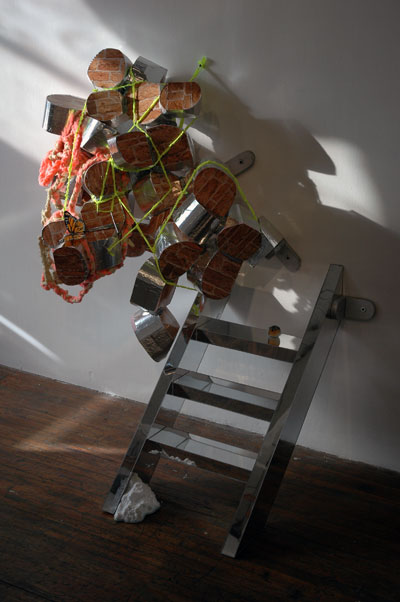 Melissa Pokorny Coming and Going [installation view]


[detail of "Coming and Going"]
Melissa Pokorny has a solo show, ""homemade cultural probes", in Front Room Gallery. The eight sculptures and one edition are each constructed from any or all of the following materials: digital inkjet prints, poluystyrene foam, silicone, polar fleece, polyeurothane, plexiglass, mdf, found objects.
We first saw her work last year when the gallery showed work at Fountain.
[image of China Blue painting from chinablueart]