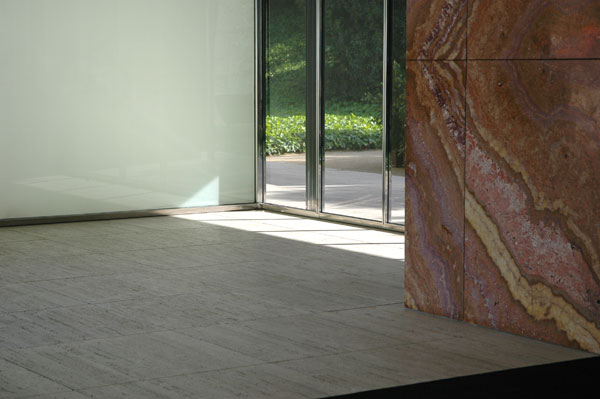 I've always wanted to inhabit this glorious utopian folly, so it was way up near the top of my list during our visit to Barcelona. In the end, since the platform occupied by the 1985 recreation of Mies van der Rohe's 1929 Barcelona Pavilion was closed for a corporate reception when we approached it early in the afternoon on Tuesday, we had to go back a second time in order to actually experience the space.
I see it as a garden folly, maybe surrounded by a vineyard, and now I really covet it. Except that there wouldn't be much wall space for art, I'd even live permanently (and sparely) in the confines of the architect's detached structure at the end of the larger pool if there were books, music and food, and if I could share the beauty of these magnificent planes with friends and others. I can't understand why none of the many people today who could afford to commission such a thing and live with it [seem to] have actually done so.
The second view here is taken from one end of that pool, looking at the structure I referred to, now being used as a museum shop. Barry can be seen in the distance, in a green shirt, sitting on the long Roman Travertine bench. The thick vertical line just right of the center of the picture is the leading edge of a high wall, of the same material, which extends all the way to the shop.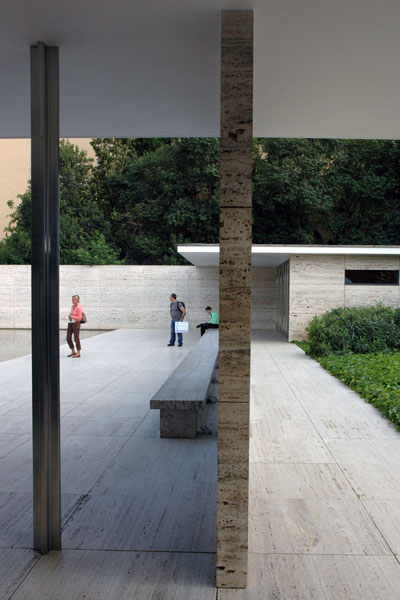 The first image above and these last two show other details of these austere, woven spaces and their materials. Those include, prominently, chromium steel, glass, water, river stones, green marble, golden Onyx, light and air.