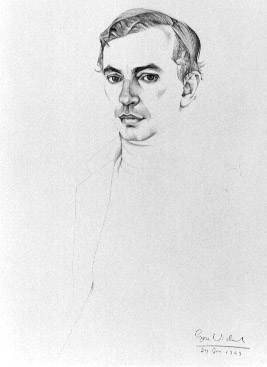 Don Bachardy Gore Vidal 1963 pencil and ink wash
"From George Washington to George Bush makes a monkey out of Darwin. [pause] I'm now a creationist."
And so, punctuating himself with a mischievous smile and a composed chuckle, did Gore Vidal introduce himself before speaking to a group of enthusiastic admirers (many of whom had brought stacks of the great man's books for his signing). The scene was the Borders store on Columbus Circle yesterday afternoon. The iconic, and iconoclastic, Leftist author, historian and "homosexualist" was in town because he was being honored with the first PEN/Borders Literary Service Award during last night's PEN Literary Gala.
Vidal reminisced about the era in America past when, if you had scoundrels in office, "you'd hold and election and you'd get them out." He spoke lovingly of his close relationship, as a boy who loved reading, to his blind Grandfather, the Oklahoma Senator Thomas Pryor Gore, who played an extremely significant role in our federal system as a player in a very different political age. But not completely different, as he indicated when he told us that although the populist, anti-foreign war Senator was an atheist, he had the good sense not to share that fact with his constituents.
Knowing the audience would be interested in his opinion on the subject of the next election, he encouraged us to "Vote for Al Gore," insisting that Gore did win the 2000 election and was only prevented from assuming the office by the Supreme Court. He also dropped a good word for Pelosi and Kucinich.
He told us he never reads at a book signing, since it's enough work just to write them, and he would prefer leaving the reading to others. So he asked for the mind or sense of the audience; what did we want to talk about about? There was a brief hesitation, so I shouted out, "revolution!", which seemed to take him by surprise for a moment. He answered, Revolutions don't usually end well", and went on to look for another subject before I thought to retort with a list of those that did, restructurings all provoked by the impossibility of any moderate alternative.
For someone who dismisses the idea of rebellion so lightly, he fails to offer the rest of us any hope, any alternative. "We have rogues in high office and no one wants to do anything about them", he bellowed. We were very fortunate in our founders, but today "We have no republic".
Answering a question about 9/11, he admitted, "I'm not a conspiracy theorist; I'm a conspiracy analyst." He said that this gang in the White House would never have been able to pull it off; everything they do is screwed up completely. On the other hand, he suggested, it would be possible for them to have just stood aside when they learned it was happening. "I'd like to blame them", Vidal concluded, but he wouldn't go any further.
[Don Bachardy drawing from americanartists]