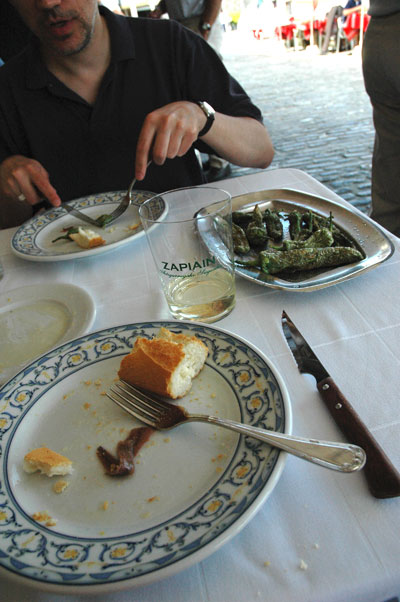 It's a very simple thing, but I think our most exciting gustatory discovery while in Spain was a traditional (Galician) pepper dish, Pimientos de Padrón, and I'm willing to go to great lengths to find the right pepper in order to reproduce the dish at home.
This picture shows us on the terrace outside the Mayflower restaurant in Getaria finishing a magnificent, elegant but extraordinarily-minimal appetizer of house-cured anchovies, in a terrific local olive oil combined with chopped garlic, just after the peppers were brought to the table and before the wood-grilled monkfish entrée (cola de rape a la plancha) had arrived directly from the fires burning ten feet behind Barry's chair.
The wine in that beautiful thin [cider] tumbler was an excellent Txakoli from the Basque country.