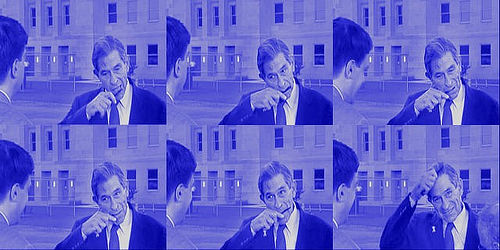 like a bad penny
I cannot hide it any longer: We arrived back from Spain Wednesday afternoon. Our luggage, having decided to extend the holiday for another day, arrived at our door 24 hours later, sadder but a little wiser. Next time there will be no dawn check-ins at a remote airport for a connection to a Transatlantic flight.
I have tons of images from our trip to Spain which I'd like to put up on this site. I'm going to keep putting more up until I get distracted by the next new thing.
Unfortunately I really am very easily diverted. Witness my delight in one of today's biggest news stories and my failure to resist looking back almost four years to three of the entries on this site which dealt with Paul Wolfowitz - in one of his earlier incarnations. Too bad he's never gotten fired for his real failures and crimes: total personal incompetence and state murder on an international scale.
If you can still stand to read about the man, see this, my September 21, 2003 post and both this and this post each filed two days later, concerning Wolfowitz's appearance at The New School.
[yucky image, but perhaps also an homage to Deborah Kass, from trueblueliberal]