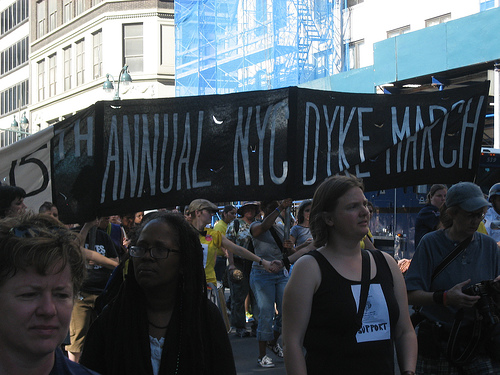 Friday night's NYC Dyke March
In the middle of everything else he was balancing this weekend Tim Doody of The Radical Homosexual Agenda [RHA] forwarded this I-Witness Video item to me on on Saturday, when I only read it very quickly. It seemed so fantastical that I wanted to check out the story before I repeated it, but no one I talked to outside of the RHA this weekend seemed to have heard anything about it. Actually of course, I should never have had any doubts about it since the byline is that of Eileen Clancy, the video activist who was instrumental, along with many others, in exposing the lies and political arbitrariness of the NYPD arrest sweeps and citizen lockdowns during the RNC.
This is only an excerpt, from a story which only gets more interesting in a public transcript included in the remainder of the full text:
Saturday, 23 Jun 2007

by Eileen Clancy

Through the spring and summer months, the New York City Police Department has continued its campaign to shut down, suppress and contain political demonstrations, often in a completely unreasonable, ill-informed and even insulting manner. Recently, the Police Department has outright refused or stalled permits for events organized by the African Diaspora Education Society, Gays and Lesbians of Bushwick Empowered, the PrideFest and the Audre Lorde Project's Trans Day of Action.

Yet, even as many groups scramble to assemble pro-bono teams of attorneys to fight for permission to hold events, the NYPD has secretly issued a parade permit to the largest annual unauthorized political gathering on a Manhattan street, the 15th annual New York City Dyke March. Later today, tens of thousands of lesbians and their supporters will sally forth onto Fifth Avenue in a parade of lesbian visibility without knowing that their display has received the seal of government approval.

That's right, unrequested by and unbeknownst to the organizers, the NYPD has granted legally permitted status to the Dyke March and has done so for years.

How do we know this? Because Assistant Chief Thomas Graham, the commander of the Disorder Control Unit and the NYPD's expert on managing political demonstrations, says so in sworn testimony.
When I first read this story I felt like I was having a through-the-looking-glass moment. Then I got really mad. For years an alert and dedicated citizenry has been working very hard, putting their energy, time, jobs and money on the line, to exercise Constitutional rights which the police and their political allies refuse to recognize, but all along the constabulary has been justifying their occasional and apparently random passivity internally, and protecting their own rights and freedom of movement, by officially granting permits not requested.
It's incredibly patronizing, of course, but much more is going on here. Nothing may better illustrate the arbitrariness of police power in New York City, where not only does the NYPD make law on its own, but it can [appear to] violate those laws whenever it so chooses.
[image from Nicole Marti's Flckr page]