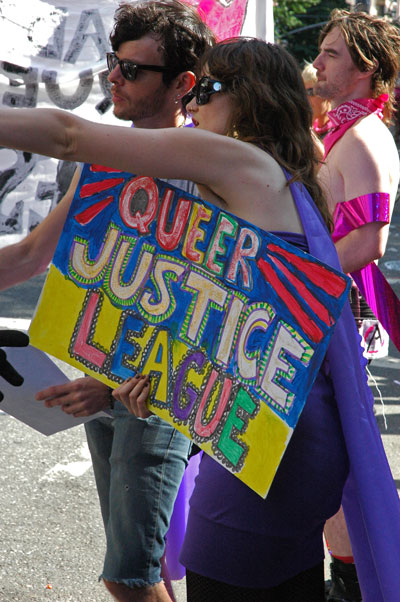 We were colorful, loud, beautiful and cute, joyful and fierce, and we never really stopped moving, even when the march did. One of the group described himself today, after eleven hours of sleep, as a survivor of "the anarcho-queer olympics that was our participation in the parade.
The crowd was crazy about this "unpermitted" band of RHA and Queer Justice League activists, even if the serious message of their visuals and their chants might initially have escaped some of the people shrieking with glee behind the barriers on each side of the street. I walked down Fifth Avenue from somewhere in the 50's and all the way to the river, and I never heard a single discouraging word.
In any event, on Sunday thousands of people saw the pink and white flyers we handed out and should be able to understand today that this group and its reason for being there on the streets related more closely to the original Stonewall than anything else in this 38th anniversary march.
I've uploaded some additional (thumbnail) images of these animated street lobbyists below [click to enlarge]: