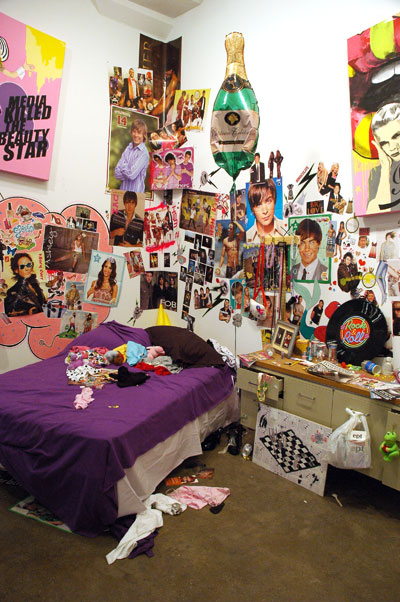 Ju$t Another Rich Kid & Stuart Semple Teen Dream Chaos 2007 mixed media installation, dimensions variable [large detail of installation]


[further detail]
For those who haven't yet seen the show on 21st Street Anna Kustera has fortunately extended the run of "The Black Market" until August 3. It's something about the comodification of everything we think we may still have held simply dear until recently. Yes you may go shopping, and the stuff is attached to a huge range of price tags.
In addition to their rich collaboration shown above there are also individual pieces by Ju$t Another Rich Kid and Stuart Semple, who are jointly responsible for curating the show. Beyond that there's work by Mattia Biagi, Carlo Zanni, Cory Ingram, Craig Wilson, Adham Faramawy, the (aural) collaboration of London Nu Ravers, Warboy and K-tron of All You Can Eat, as well as something called "The Playground", described as an unbound collection of hand-made fashion and art prints produced and boxed in a limited edition.
It all looked like tons of fun to me, and when I was there the contents of The Playground's striking box hadn't even been revealed yet.