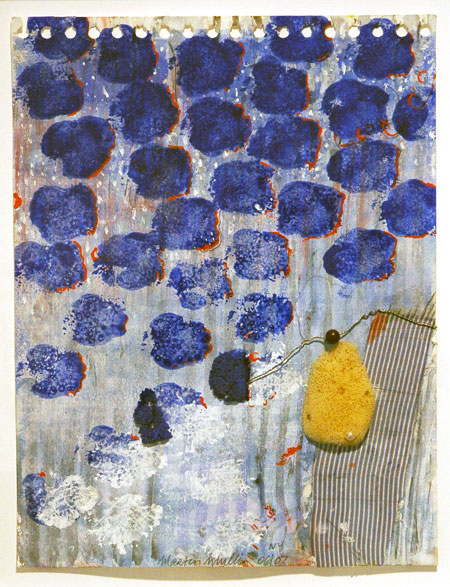 Martin Mullin Hydra 2006-2007 mixed media collage 11.75" x 9" [installation view]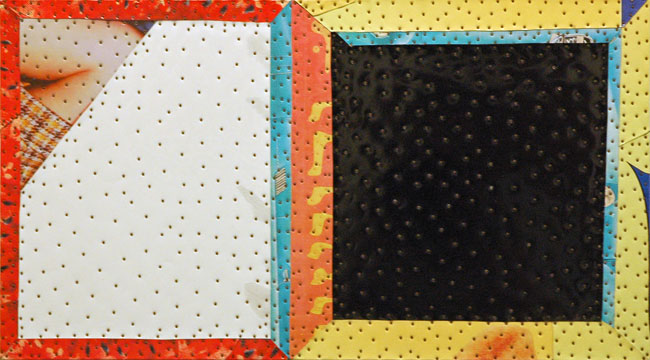 Tony Berlant 24 Hours 2000 11.5" x20"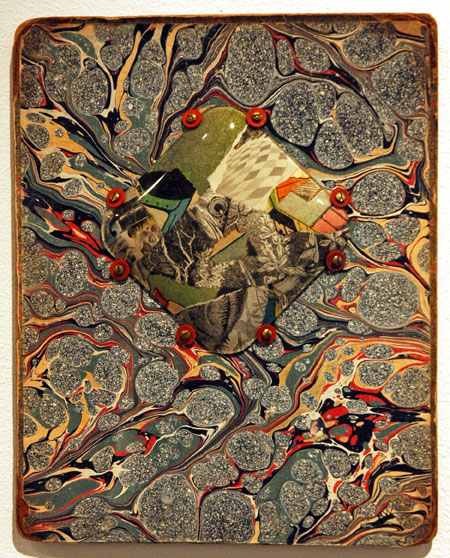 Robert Warner Untitled 2007 flint glass and collage on book board 10.25" x 8.25" [installation view]


[detail]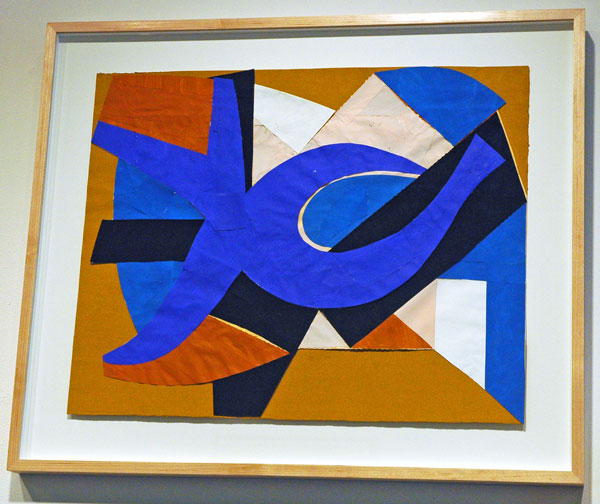 Fritz Bultman Waves and Others 1978 painted paper collage 16" x 20" [installation view]
Pavel Zoubok's current group show, "collage + abstraction", can described pretty much by its title alone. The works shown were created by 55 artists over most of the last 100 years. The oldest piece is Kurt Schwitters's tiny, 1921 "Lady in Red".
It's a rich collection, and in a visit to the gallery earlier this week I found the small and large beauties of these dozens of works arranged as they are in a handsome, rhythmic, salon-ish installation almost overwhelming. And it's all very elegant.
That last adjective however provokes me to ask mischievously whether something might be missing. There's nothing obviously outrageous going on here. Maybe that's only an over-stimulated today talking, looking for novelty, and in the interest of disclosure I should say right now that I like outrageous (note: Pavel Zoubok has often fed my appetite generously).
I definitely won't fault the gallerist/curator's aesthetic choices for this show, but in spite of my love for both abstraction and collage I think I regret the almost total absence of representational imagery in these works. Also, even if I can accept the restriction defined by the exhibition's title definition, and although some of the works employ stuff outside the collagist's conventional range of paper materials, maybe the components and, yes, the shapes of the collages selected could have been a bit less predictable. Stefan Saffer's "Fortress" and Robert Motherwell's "Celtic Air" are two of the very few pieces which do not subscribe to a presentation involving four right-angle corners, and Saffer's folded paper structure actually breathes totally free, managing to resist confinement in a frame of any kind, only barely able to rein in its third dimension.
But all this is small change when looking at the work itself. I went back to the gallery today, along with Barry and an artist friend. All three of us had a really hard time leaving.