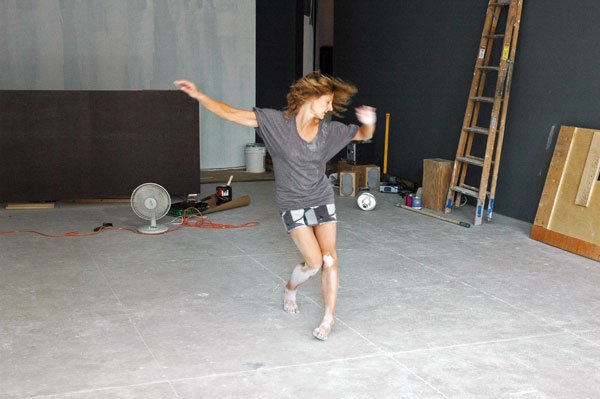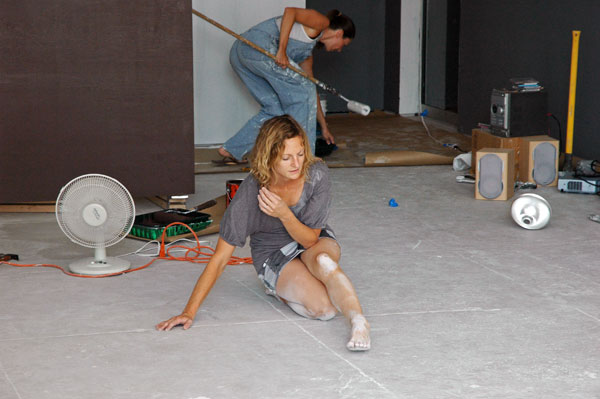 Barry and I walked over to Elizabeth Dee this afternoon to catch part of an all-day performance by Felicia Ballos and Flora Weigman. It was today's segment of "Carte Blanche", the gallery's August-long program of video and performance art curated variously by gallery artists, the gallery director, guest artists, or guest curators.
The images shown above are of a section of Weigman's improvisational dance solo. Her movement totally energized the bare exhibition space while it was in the process of being returned to clean, white-box gallery mode (hands-on-paint-roller gallery director Jennie Moore can be seen in the wings). Accompanying her performance was the raw machine-music of Wolf Eyes, their CD "Burned Mind", from Sub Pop.
Ballos told me later that she had been turned onto Wolf Eyes by Steven Parrino.
For another image, including a link to a slide show with dozens more, see Bloggy.
Tomorrow's program includes a talk by Drew Heitzler, artist, curator and Champion Fine Art co-founder, now the co-owner of the Culver City bar, Mandrake. Heitzler's performance is titled "I'm Not an Alcoholic," and in it he is expected to address the history of artist-run bars. The fun, including "beer with friends", starts at 6:30.