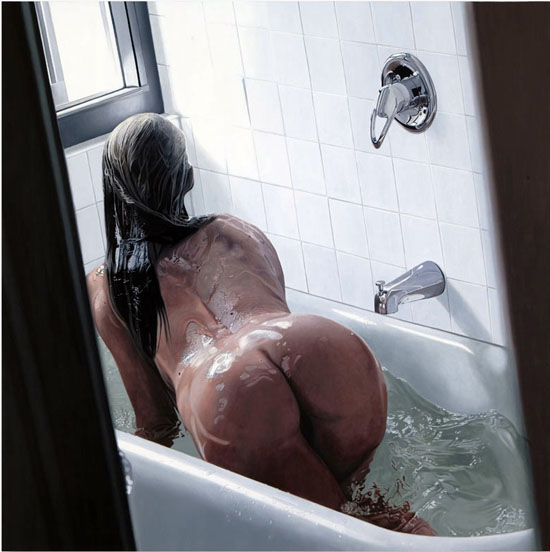 Adam Stennett Girl in Bathtub 2007 oil on wood 48" x 48"


[detail]
It's not just another pretty face. I'm having a hard time getting this painting out of my head. I can't explain it, especially since I'm just about one hundred percent gay. I know it's not just what Adam Stennett does with the illusion of polished chrome, of wetness and of water itself, because it's not just this painting that gets to me. While I was in 31 Grand last week I made an effort to capture only this particular work from among the four others in the artist's current show, each an image of a beautiful woman swigging from a bottle of Tussin DM cough formula as if it were some kind of candy cocaine, but I now find its siblings at least as compelling. Go to the 31 Grand site to see what I mean, and if you are able, get to the gallery before November 10.
And what happened to the cute little rodents so prominent in Stennett's earlier work?
The gallery press release explains:
With this show he continues his exploration of the intimate dramas of the everyday, and the precarious balance of awareness and oblivion. His subject matter has evolved—the adventurous mice that had been his trademark are now replaced by images of girls poised precariously near turbulent water and various medicinal products put to queasy, off-label uses.
I don't think photorealism has ever looked so seductive, but I'm almost as excited about the abstract beauty which shows up in a closeup image.
Oh, my own photo image of the complete painting couldn't come close to the perfection of the gallery's own jpeg, which I ended up using here. I scuttled my own photo and settled for showing only the detail.
Stennett also has a short video in the room at the rear of the gallery. It's quite strange, and quite wonderful.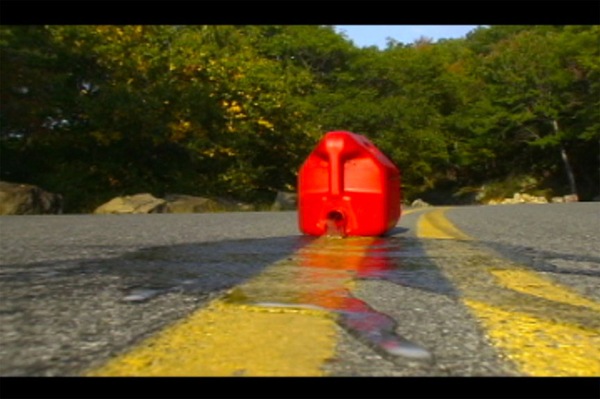 Adam Stennett Harmful or Fatal if Swallowed 2007 video [still]
[first and third images from 31 Grand]