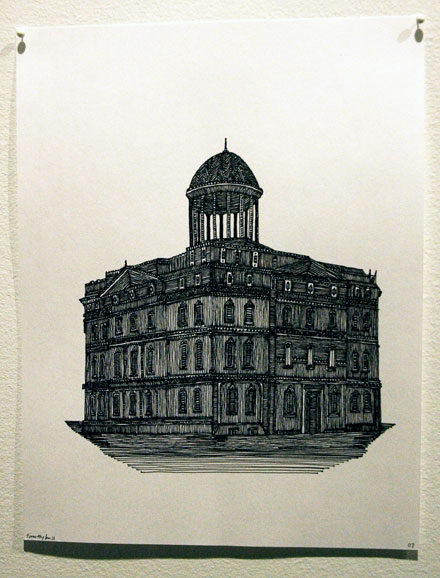 Timothy Marvel Hull Untitled 2007 ink on paper 11" x 8.5" [installation view]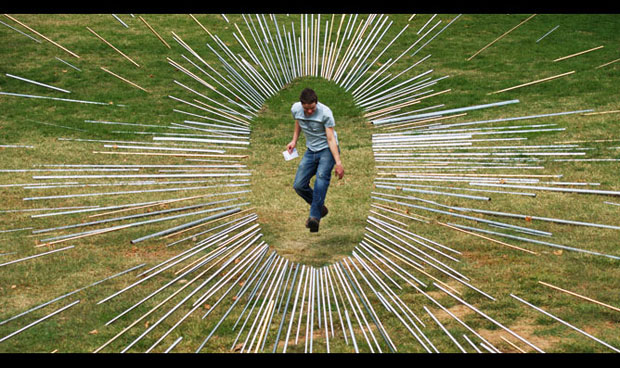 Tex Jernigan [one image, not in this show, from "One: Across America" (2006)]
Lauren Ross has curated a very neat group show, "Divine Find", inside a new space in SoHo. Yes, SoHo, and it's even northern SoHo. Er . . . it's actually just north of Houston, so technically it might be in NoSoHo. The artists are Timothy Marvel Hull, Tex Jernigan, Christopher Miner, Mariah Robertson and Peter Rostovsky, and the theme is described in the press release as "locating the sacred in the commonplace".
I'm pretty sure that phrase doesn't refer to the venue itself. The gallery Artspace Stonefox is no commonplace. Showing emerging art in a working office: It's a great concept, and I've seen it happen before, sometimes with mixed success. The curating must be sensitive to the art and the environment, as it is here, and even with the best wills and the finest curatorial resources it's not an innovation easily accomplished - or reproduced - since neither the appearance nor the routine of most office environments lends itself to the requirements of a gallery space. Cheers to the people of Stonefox for going out of their way to do it, for doing it right, and for playing such gracious and enthusiastic hosts. The architecture and design firm has set aside a significant portion of their office to create Stonefox Artspace. They describe it as a temporary project and exhibition space. A lot of artists and curators will be hoping that "temporary" only refers to the duration of individual shows.
This one continues until December 4th. Since it is an office, we shouldn't complain that (except by appointment) the hours are Monday through Friday only, from 12 to 6.
But a small note about the exhibition itself: If I leave wanting to run to my computer for more information about the artist or artists, a show has been a success, at least for me, and that goes for any art, including performance. This one more than qualifies, since a day later I'm still wanting more and frustrated with how little I can find on line. Christopher Miner is a good example: Try looking around yourself, and you'll see why I'm going to have to visit Mitchell-Innes & Nash.
I've learned to trust Lauren Ross.
[second image from Tex Jernigan]