Daniel Joseph It's starting to rain acrylic, latex and collage on wood 96" x 24"


[artist's note mounted to right of painting, completing installation of "It's starting to rain"]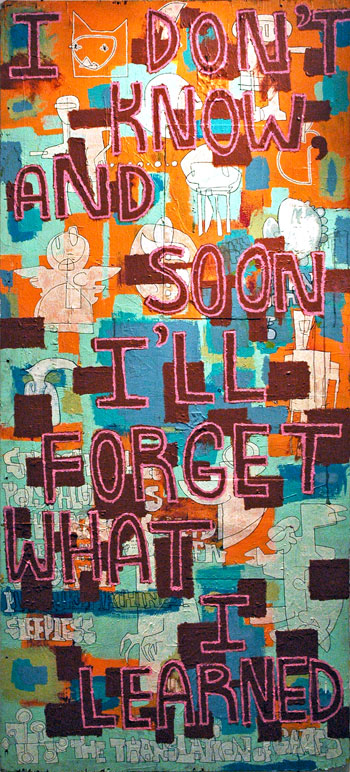 Daniel Joseph I'll forget eventually 2007 acrylic, latex, oil and collage on wood 96" x 43"



[artist's notes mounted to left of painting, completing installation of "I'll forget eventually"]


[full view of "I'll forget eventually" installation]
I did not know about this wonderful artist until two weeks ago. There were apparently any number of missed opportunities to do so, as I've learned about since visiting a group show, "Holiday!", mounted by BUIA gallery last month, but somehow I had not come across the work of Daniel Joseph until then. The artist is known for painting, installation, performance, video, works on paper and music. Even now, of all those mediums, I've only seen his paintings first hand. These gorgeous pieces may represent the most traditional form of his expression, but apparently he couldn't just do a painting; he had to make it an installation, leaving us little hand-written messages which bring his complex wood and paper constructions into the viewer's own world.
But these particular works are also not just paintings. They're actually more like painted collages. I'm sorry my photos don't really show their full richness. I guess I was a bit too quickly distracted by our conversation with Vanessa about the artist while Barry and I were in her eponymous gallery. Although the show from which I snapped these images is now gone, I'm tempted to go back and ask if I might be permitted a stab at a detail shot or two.
Joseph had a solo show at the gallery last year. I missed it, but I'm not going to miss the next one.
In the the press release for the 2006 show, novelist/essayist/wit Mike Albo was quoted speaking about Joseph's work:
I don't think Mr. Joseph believes in silent retreats. Instead of stripping things bare he would rather dive into the mess. His collages have a shredded beauty, made out of layers and layers, drizzled with symbols. He piles things on and leaves heavy footprints. He refuses to believe it's too late for love or that it comes from somewhere above our heads in some kind of refined, expensive air. He wants us to scream and find to each other through the tatters and chatter.

Somewhere down here, deep in the mess, are fresh moments, orgasms, friendship and the lurching laugh-cry you used to get when you laid on the front lawn and looked at the sky. These pieces drag you through all the trash as if you were pulled along by a loving arm that won't let go. Here are Daniel Joseph's buoys- swim to one and signal to someone else that you are in love.