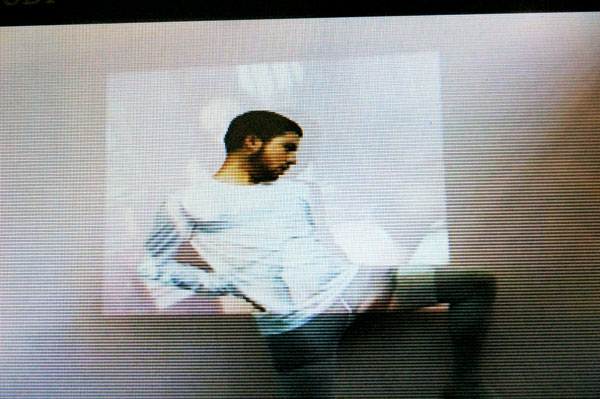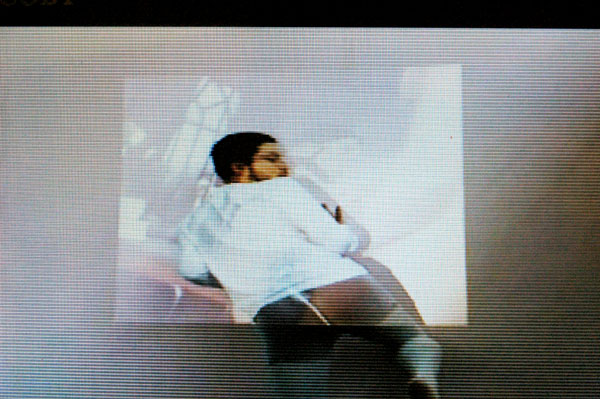 The Pulse people set aside a booth for Parsons MFA Fine Arts students to create a "reading room" for the fair located on Pier 40. Called "PULSE PAUSE", the installation was curated by Jeffrey Walkowiak and included work by a number of artists who managed to make it one of the most interesting stops of the afternoon.
Even though, or perhaps because, it was almost fully camouflaged I was especially taken with the installation by one participant. The video stills shown above are from a small portable DVD player which the artist had completely painted over in yellow paint. Sadly, and uncharacteristically, I do hot have his name or the work's title. Maybe one of my readers will be able to enlighten us.
Until I sat down to do this entry I was certain I had written it down somewhere after Brandon Nastanski had enlightened me. I do remember he said the artist was surprisingly only a first-year student. Nastanski had created the one-person "speakeasy" which attracted most of the media attention for the entry.
I can at least begin to describe what you are looking at: A young man, perhaps the artist himself, is seen standing directly in front of a fuzzy projection of a male-female couple having sex. The young man tries over and over to duplicate the various positions being enjoyed by the woman on the screen. The video is looped. It's beguiling.
UPDATE: Jeffrey Walkowiak, the curator of the installation, tells me that the name of the artist is Matthew De Leon. It's now included in the headline of this entry, but I've made no other editorial changes]
FURTHER UPDATE: Looking for something else in a search on my own site I just today [February 16, 2009] came across this web site of the artist.