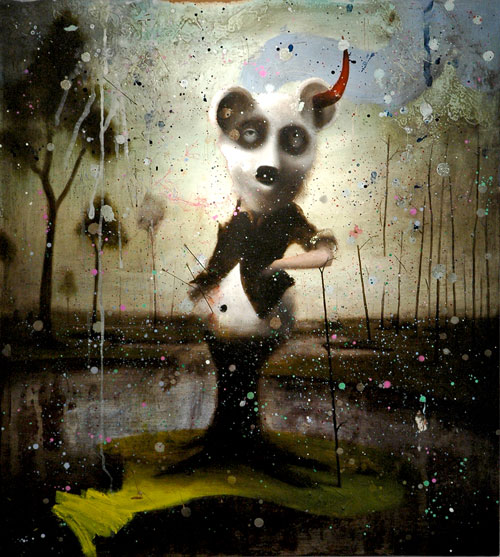 Anthony Pontius there is an end in flight 2008 oil and ink on panel 32" x 36"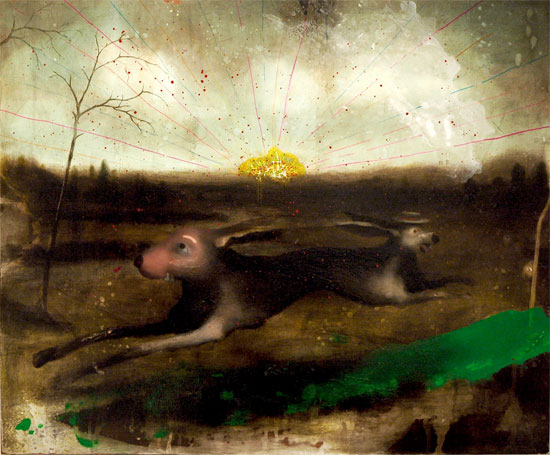 Anthony Pontius the ill-fated march of a plouged jogger 2007 oil and ink on panel 30" x 36"
It was gorgeous, and now its gone, but 31 Grand's recent how of work by Anthony Pontius, "Why on Earth?" isn't forgotten, at least here.
The press release tells us that Pontius examines "the importance of the human connection to history and nature.
By recontextualizing historical imagery, stories and concepts in the world of now , he presents a new narrative that is familiar yet the full meaning is not immediately accessible. Employing a mix of past and present techniques, he forms these new arrangements; using classical clarity to define a specific part of a story and at the same time abstraction to complete or destroy the formation of the work. The finished painting is a proclamation of something new and not easily defined, realizing that history and memory are not clear or concise, but the consequences of interpretation.
I've loaded this post with a few images taken in the gallery, but I have to explain both the presence and the appearance of the one just below.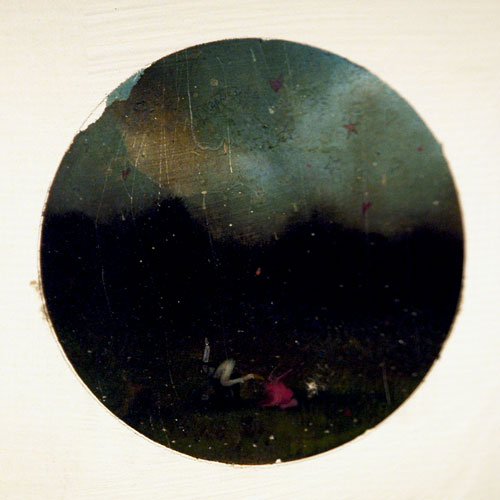 Anthony Pontius the april fool 2006 oil on paper 4" diameter [large detail of framed paper]
I don't think this tiny "the april fool" was a part of the show proper, but I fell in love with it immediately. It was hanging near the desk, and its dark colors and shapes were framed behind a piece of glass. A photograph seemed almost impossible, but I gave it a try and snapped the piece from an acute angle, thinking the most I could do with the image would be to remind myself of its charm once I returned home.
This afternoon I decided to play around with it on Photoshop (where my skills are actually pretty abysmal). I managed to bring some life back into the very dark image and I even returned it to its neat circular shape. Now that I'm pointing it out you'll see some blurring on the right edge of the drawing. It's caused by either a narrow depth of field or, more likely, the stress of my converting its shape from the oval the camera left me. In any event, I think that what you can see is a fairly good representation of the beauty which caught my eye that day.
Related: "No New Tale to Tell " at new 31 Grand [scroll down]