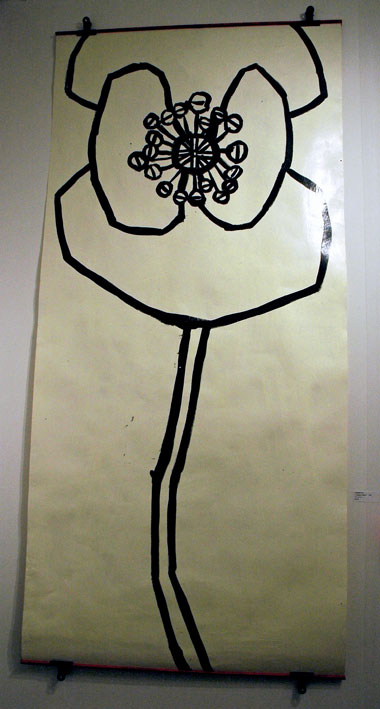 Chihiro Ito's 2006 poppy drawing at Shion Art (New York, Nagoya)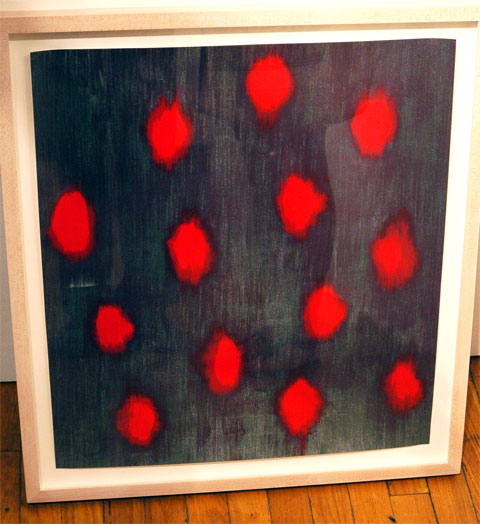 2007 Ross Bleckner print at Hal Katzen (New York)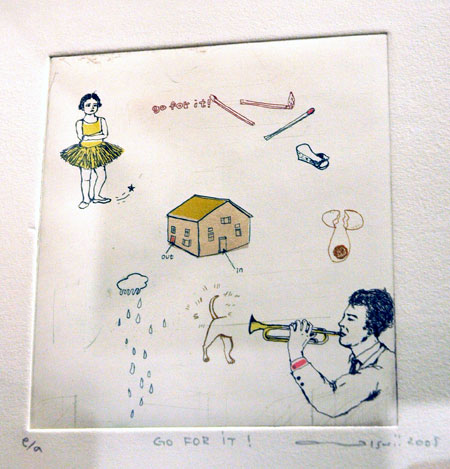 small Atsuko Ishii etching from 2008 at Envie d'Art (Paris)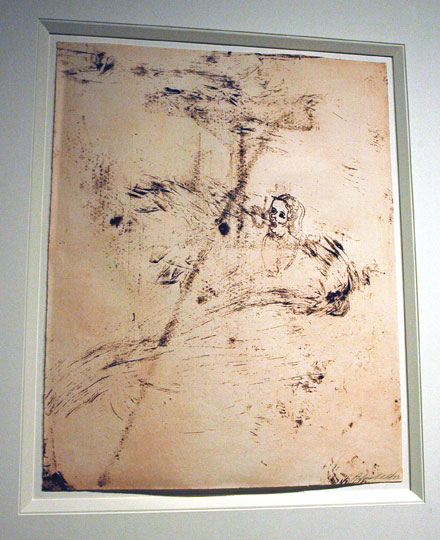 1983 Julian Schnabel etching at Peter Gant Fine Art (Carlton, Australia)
I went to the 2008 Affordable Art Fair [AAF] preview last night thinking, on the basis of previous incarnations, that the slim hour I had allotted for a visit might be enough. It wasn't, by a long shot. I was very pleasantly surprised that even after overstaying into a good part of another hour I had probably only seen about a third of the exhibitors, and I promise I was hardly schmoozing at all.
There's some very good stuff to be seen on West 18th Street this weekend, and some of it really is affordable. I think I'm using the adjective judiciously, because with prices which start at $100 or $150 much of this art will find a home with folks who may have only very modest incomes.
I'm not being patronizing about the quality of some of what is available; there are works I wouldn't be surprised to see in fairs with much higher visibility - and pretensions.
With that reference I should say that on my way down the aisles and past the bar areas I had to slip through dense throngs of well-dressed and well-lubricated bargain-hunters last night, many of whom were doing more than just schmoozing themselves: The rich love a good bargain as much as the rest of us; they'll compete even with impecunious collectors so long as the packaging looks good, and the organizers have done a very good job with this package.
Prices seemed to be pretty visible, either on the labels or lists set out. The works shown at the top of this post ranged from $150 to $6000. The Fair says the works start at $100 and go to $10,000 (well, "affordable" is always what you think is affordable).
As usual there were still a huge number of gallery names (they came from all over the world) I didn't recognize. The organizers and the galleries have done a great job this year, but if only to emphasize the idea that money is not the standard by which good art should be judged, it might be nice to see the AAF attract galleries from all levels of "respectability". Last night I saw some gallery owners walking about who weren't exhibiting at the fair. They may have just been socializing, or they may have been there for r&d, a professional investment analogous to that of galleries haunting art school studios and graduate shows. But I'm thinking that surely even a blue chip space can find work from its existing shelves or files which it could position for entry-level art patrons. Or perhaps even better, how about "big-deal galleries" exhibiting work at AAF by artists they're currently only considering representing? Of course it would mean they'd actually have to go out and look at some new art.
AAF continues through this Sunday at 135 West 18th Street.