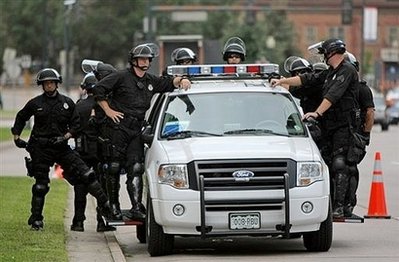 nothing to see here, folks - keep moving*
Move over, China and Zimbabwe: Make room for America. Okay, so I exaggerate a bit; let's just say instead that the gap is definitely narrowing between us and those nasty foreign governments whose practices we decry, when it comes to what can be done to prop up an unrepresentative regime.
Four weeks ago we were told that in Denver demonstrators who wished to address those attending the Democratic Convention (that is the unpaid, unprofessional, unworthy lobbyists, the unwashed multitudes) were/are not permitted to get within a quarter mile of the gates to the arena. A high-wire-fenced free speech pen was set aside somewhere in the boondocks where attendees would not be able to hear or see the people who want to approach their supposed representatives and the media which fawns on those official politicos. Not surprisingly, no one showed up. And then I have to read Markos of Daily Kos report from inside, with the chosen:

I listened in briefly to a cop and some convention goers having a nice chat as we tried to get a cab to the hotel. He was saying how uneventful the convention had been, how well-behaved protesters had been, and how everything appeared to be going nice and smooth. Knock on wood, I suppose. I don't know how the TV blowhards have been portraying that stuff, but from my vantage point, it's been quite civil and -- dare I say it? -- even tame.
I try not to scream.
In Minnesota, one week before the Republicans meet in St. Paul, the local constabulary shows looks like they're trying to outdo the NYPD Brownshirts. They're taking on the aspect of a Secret Police: Artist/videographer/journalists of the Glass Bead Collective, who were responsible for releasing the video of the New York cop body slamming a cyclist, were detained and searched yesterday morning by Minneapolis police. Their equipment was confiscated. No reasons were given.
They're in St. Paul as members of the independent press documenting the Republican National Convention. Three police and sheriff cars stopped and photographed them at 2 in the morning as they were returning to their rooms. They were videographed by the police and questioned individually about their travel plans and what they intended to report on. They were forced to line up against a police vehicle and they were first searched and then their personal belongings, including notes, phones, computers and personal objects, were confiscated, even though they were released without charges.
The obvious assignment for these thugs with badges was to get information on the identity and plans of anyone planning unregulated speech during the Democratic Party Convention and to intimidate anyone who might be thinking about exercising rights these officers should be protecting. Do not fail to watch this powerful video; if we survive this regime, it will become an important document of these times.
Today we learn that a billboard company has abruptly canceled a contract [signed August 8, revoked last week] which a recognized New York artist had for her "Soldier Billboard Project" to be mounted on billboards in St. Paul next week while the Republicans were in the city. The large-scale photographs of Suzanne Opton are powerful portraits of American soldiers between tours of duty in Iraq and Afghanistan.
An executive of the advertising company involved (owned by CBS) provided this statement, apparently trying to explain his corporation's censorship:

"The reason we have advised you that we cannot post these as billboards is that out-of-context (neither in a museum setting or website) the images, as stand-alone highway or city billboards, appear to be deceased soldiers. The presentation in this manner could be perceived as being disrespectful to the men and women in our armed forces."
It's now clear they've got us where they want us, wherever we live. All they have to do is say that what we do is what terrorists do, and that seems to be enough for our frightened or doped fellow citizens. The new fascism: Don't expect a formal announcement.
*
Agence France-Presse caption:

Members of the Denver Police Department patrol Auraria Parkway outside the Pepsi Center as activists protest prior to the Democratic National Convention on August 23, 2008 in Denver, Colorado. A tight security net enveloped Denver as the city braced Sunday for the arrival of tens of thousands of supporters and protestors for the Democratic Party's political extravaganza.
[image by Doug Pensinger from AFP]