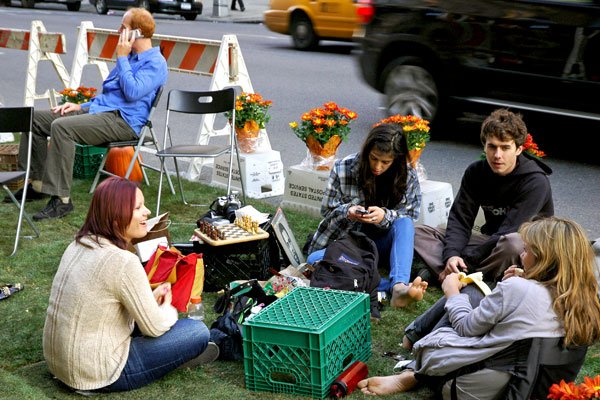 park yourself down where iron monsters usually lie
I went down the block to our local Whole Foods market yesterday afternoon, and as I turned the corner onto the avenue from 24th Street I stopped in my tracks. I must not have been reading my emails with any care, because I was taken entirely by surprise to find one of the 50 sites of what was the second "Park(ing) Day NYC". The "Seventh Haven" chapter had unrolled some real turf and living potted plants onto what is normally a vehicle parking lane. From this refreshing green oasis they greeted passersby and invited them to share their outdoor furniture and reading materials, the greenery and the ease.
"Brigadoon" is the story of a mysterious Scottish village that appears for only one day every hundred years. These little parks may appear with greater frequency, but they are no more permanent than a view of that enchanted Highland valley - in the New York case, even for the cheery inhabitants we might meet there.
It was almost exactly one year ago that these activists had first introduced us to the possibilities which would open up if we took a hard, humanistic look at our current transportation priorities. Sadly, the "park" I saw yesterday looked no more permanent than the one I had seen the year before. I'd like to believe we might expect more from our City planners than to simply continue countenancing these annual exercises.