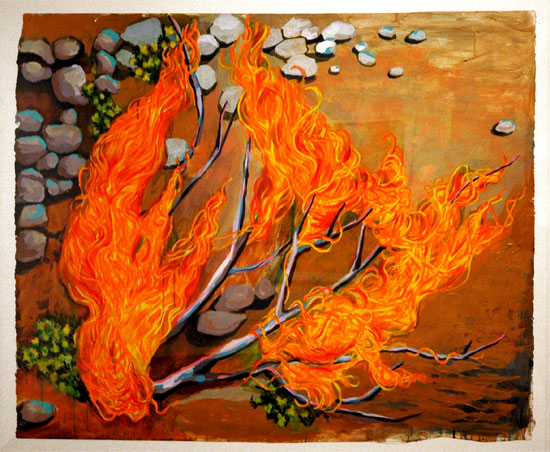 Karen Heagle Death Valley 2008 acrylic and ink on paper 51.5" x 55" [installation view]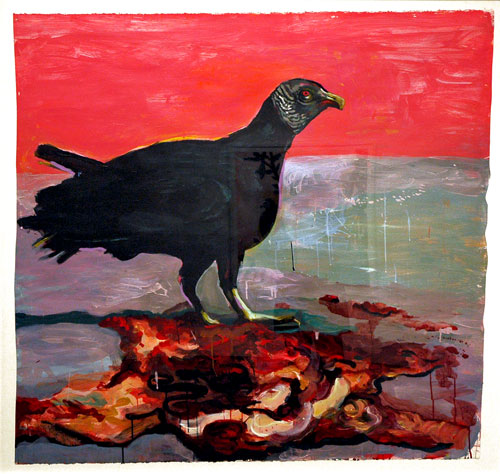 Karen Heagle Vulture with Carcass 2008 acrylic and ink on paper 54" x 52" [installation view]
Karen Heagle's second I-20 solo show, "She'll Get Hers", opened on November 1st, but I hadn't managed to see these latest paintings until Tuesday.
Wow.
The expressionist take on her characteristic, deliciously-wacky assortment of subjects has the physical appeal of the child's "finger painting" kits which both attracted and repelled me as a child (I was too much of a neat freak to jump in). In these luscious paintings (acrylic on paper), describing vultures, rubbish, the painter's own tools, a coiled snake, at least one nude, a pregnant man, and a burning "bush" in the desert, Heagle's peculiar enthusiasms and almost reckless palette combine to chart a path which skims the borders of hell on the way to the celestial.
NOTE: I-20's site has these two images and four more. I wrestled with the decision, but I decided to use my own for this entry. There are unfortunately some reflection on the plexiglas, but I thought the colors in my shots were more true to the originals, and I really wanted to do all that I could to convey some of the energy and excitement I experienced standing in front of them.
Just remember that these imperfect copies can't begin to reproduce the paintings themselves - or their impact.