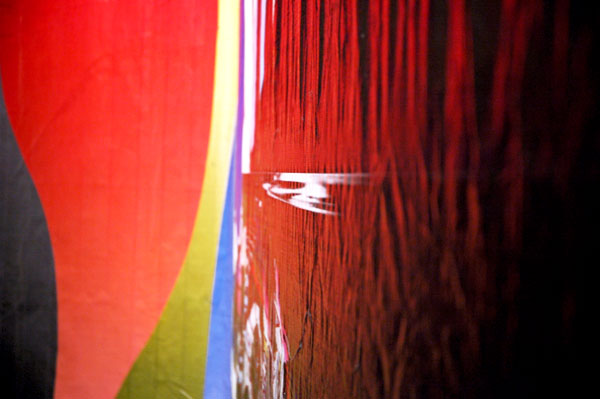 Lee* inside Fred's work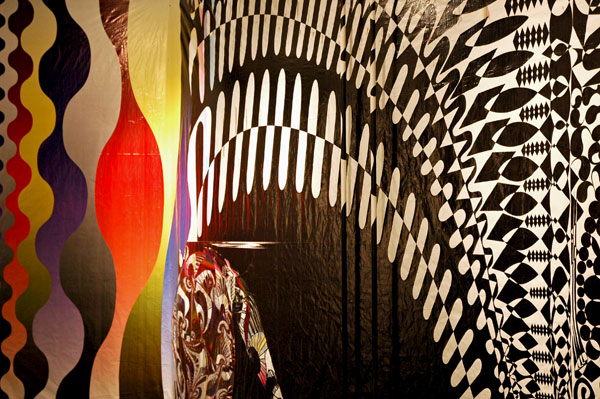 Fred's Lee thing** [detail]

Utopia, with Fred's Lee, and artists
The title of the installation, "Love To Fred From Lee Lozano", comes from the inscription on a graph-paper notebook given to the artist Fred Gutzeit by Lozano, who died in 1999. Gutzeit used its pages to plot his 60-foot printed mural, its imagery inspired by Lozano's own work, mounted along one wall of the narrow Bushwick gallery, Pocket Utopia.
If the current show is a generous homage to an artist who had once almost disappeared, Austin Thomas's remarkable Bushwick space itself is a generous and continuing homage to all those who make art.
Jerry Saltz, in a piece in this week's New York Magazine headlined, "Art on a Shoestring: That's where creativity really thrives", points readers to four Bushwick galleries, including Pocket Utopia, ". . . where you'll likely be greeted by the ball-of-energy artist known as Austin Thomas, who, in the year and a half she's been open for business, hasn't sold a single work to a collector—only to artists."
It sounds shocking, but it almost doesn't surprise me. Maybe it's actually just the way things have come together up to now on Flushing Avenue, but having hung around there from its very beginnings, I can't think of any words which might better describe the inventive direction and magnanimous motivation of Thomas's space on Flushing Avenue. Austin is an artist first, and the organic, collective process behind the works which pass through this tenement-building's former hair salon shop always takes on the aspect of a creative work itself, of artists both individual and collaborative. This kind of sensitivity and generosity is understood and appreciated by artists first.
*
NOTE: The image of Lee Lozano's face is only fully visible if the side of the viewer's head is almost touching the mural as it faces toward it from several feet away.

**
the billboard installation inside the gallery