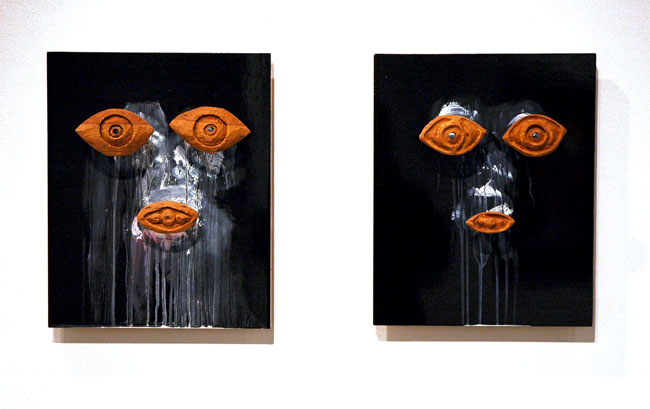 Andrew Guenther Horse Face 2006 and Water in the Planet I 2007 enamel, oil and wood on panels 17" x 11" each [installation view]*
I know I just recently did a post on this artist's show at another gallery, but I couldn't resist snapping up this image of two of his works I saw at BUIA today. They are the 20th century looking out at the 21st. These two extraordinarily-compelling faces are in an interesting group show on the theme of portraiture (the word interpreted pretty broadly). "In Your Face" will be up through this Saturday.
The other artists represented, by wonderfully quirky works which seem to have nothing in common but their difference, are Rico Anderson, Ion Birch, Brent Birnbaum, Holly Coulis, Dana Frankfort, Daniel Heidkamp, Ridley Howard, Erik Lindman, Matt Jones, Shay Kun, Federico Pietrella, Tom Sanford, Peter Saul, Rachel Schmidhofer and Barnaby Whitfield.
ADDENDUM: It's now the next morning, and as I look at the image at the top I realize that I should probably have noted two things: One, that the dimensions shown for the two pieces, taken from the gallery's checklist, may be slightly off, as they don't appear to be quite the same size; two, and more importantly, that it would have been better to indicate that there is yet a third dimension, since the unpainted, carved wooden eyes and lips hover at least two inches above the planes of the painted panels (each feature is attached with two hand-whittled sticks).