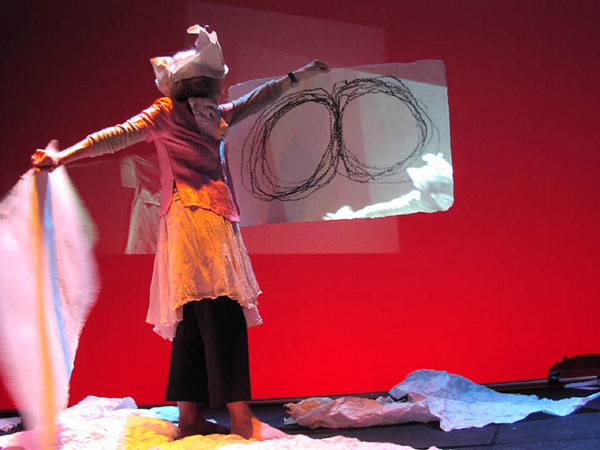 Joan Jonas in the 2003 production of "Celestial Excursions" at The Kitchen
Almost six years ago I wrote these words about the artist who may be my favorite living composer:
For a taste of what people will be talking about and, yes, singing, twenty years from now, not unlike the way that the music of Donizetti or Verdi was popularly enjoyed in nineteenth-century Italy, head for The Kitchen tomorrow evening (Saturday). Robert Ashley is the prophet of modern opera, even if he is still not properly honored in his own country.
I'm reminding myself of that post even as I recall that when I once asked the composer about what he thought of older composed music, Ashley told Barry and I, and David Behrman standing with us, that people should only listen to music from living composers; as soon as a composer dies, we should throw the records out the window. We asked, even Beethoven? he replied: "Toss them out!" We were taken aback, and Behrman seemed just as shocked. I understand what Ashley meant, but should I outlive him I don't intend to follow his advice, at least in the case of his own music.
In the meantime I am counting us all very fortunate indeed to be still alive and able to see and hear a cycle of Ashley's three latest operas - "Dust" (1998), "Celestial Excursions" (2003), and "Made Out of Concrete" (2007/09), in newly designed productions to be presented at La MaMa from January 15th through the 25th.
I wouldn't miss these performances for anything you could throw at me from the Met.
For more information, see Ashley's own site, where there is a link to an extended press release (PDF).
[image by Mimi Johnson provided by Performing Artservices]