Derek Jarman In the Shadow of the Sun 1974 Super-8 (transfer to DVD) color 54 minutes [still from installation]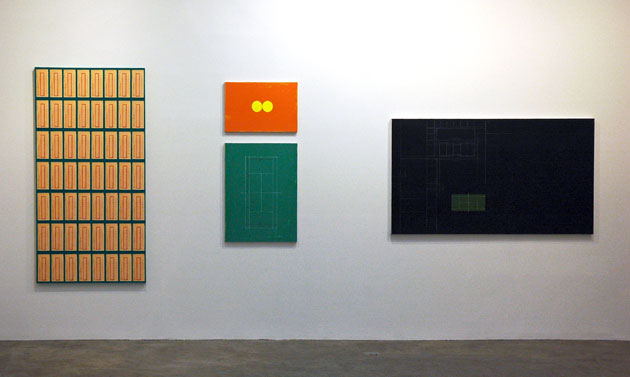 detail of David Diao's installation, "I lived there until I was 6…"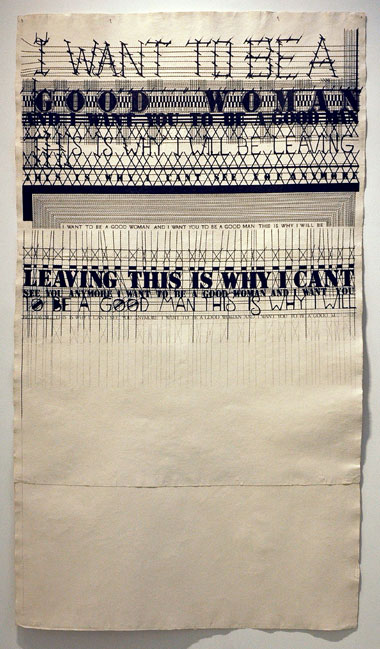 Alyssa Phoebus Good Woman 2008 graphite on cotton rag paper 96" x 53" [installation view]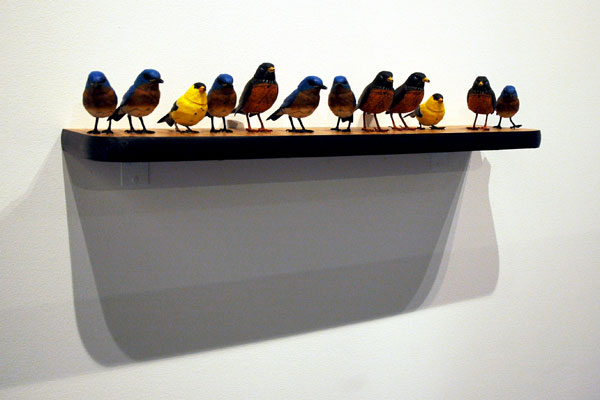 Vlatka Horvat Birds Shelf 2009 modified wood table-top, 13 photo-sensitive bird figurines [installation view]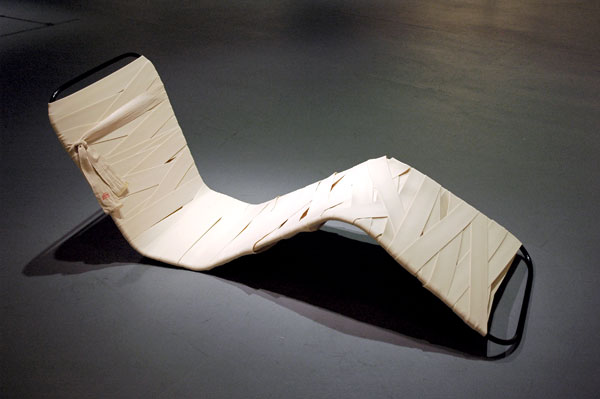 Sarah Greenberger Rafferty Strapped (Sanitorium Chair) 2009 painted galvanized steel and bandages [installation view]
Continuing the neighborhood tour started yesterday I'm uploading images, and little else, of some shows I've thought worth sharing.
Elizabeth Dee is showing four early, amazingly-innovative and almost painfully-beautiful Derek Jarman films. They are accompanied by an installation-specific sound design by the artist's friend and collaborator, Simon Fisher Turner. It's a great treat, but Jenny Moore, the gallery's director, told me there's more to come: Beginning March 7 and continuing for three months an exhibition of 18 rarely-screened Jarman films will be installed two blocks north of her gallery, at X, a new nonprofit space which will occupy the old Dia Art Foundation quarters on West 22nd Street. Beyond my immediate pleasure in learning about the Jarman show, the arrival of X sounds to me like very welcome news for everyone. I know I'm not the only one who misses the ambitious large-scale projects which were installed for months at a time on that building's five spare, elegant levels. Dia's tenure of that old garage began in 1987, the year I moved into Chelsea. The foundation moved out early in 2004 and I'm still mourning the loss of a fascinating neighbor.
I've learned quite a bit about David Diao in the last few days because of my visit to his solo show at Postmasters, "I lived there until I was 6…". I had lots of catching up to do (let's say my ignorance was embarrassing), but I'm now appreciating the strength and beauty of his art and the weight of his personal history. I've also learned that we share what some might call an immoderate interest in architecture, the abstraction and reality of "home", and the urge to look back at one's beginnings, the sort of thing which often comes with a certain maturity in years. The show, or project, at Postmasters is an aesthetic and psychological reconstruction of his family's compound in Beijing, from which he and his parents and relatives were forced to flee in 1949 with only 24 hours notice. The paintings are inspired necessarily by very imperfect memories (the house is gone and there are no pictures), those of the 6-year-old Diao and a few surviving members of his family.
The title of Alyssa Phoebus's show at Bellwether, "Lay in the Reins", appears to be something of an exhortation, and the titles of individual works expand on the theme: "Rough Sex With a Big Man", "Harder Harder", "You Ain't a Beauty", and "The Cruelties That Attend the Rites of Love" among others. These dramatic graphite drawings of lines and text on gorgeous handmade ivory rag paper are pulled from popular songs and expressions, but in the artist's hands the words take on a musical life of their own. Just don't expect a sentimental ballad.
The Kitchen has two shows curated by Matthew Lyons, Sara Greenberger Rafferty's "Bananas" and Vlatka Horvat's "Or Some Other Time", each with work in a number of very different mediums. [For a short video of Horvat's singing "Birds" see bloggy.] I liked some of what I saw but was somewhat nonplussed about much of the work. I said "nonplussed", not indifferent or displeased. I have to admit that I went into the space cold and I couldn't get much out of the press release. Because The Kitchen's web site is almost impossible to use, I see I won't be learning any more unless I go back. Because I respect Lyons, and have enjoyed following Rachel Uffner's program for several years now (both artists have shown in her gallery), I intend to do just that.