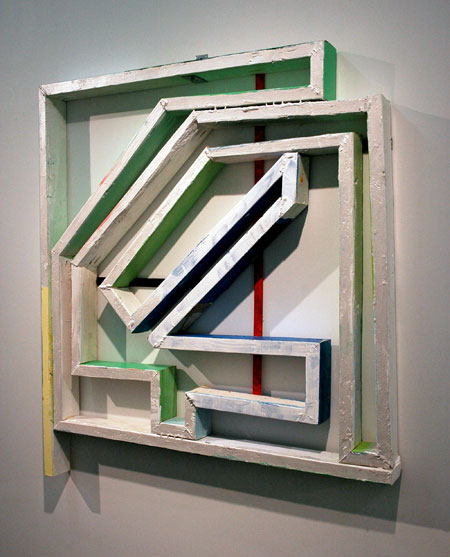 Cordy Ryman Coil 2 2008 acrylic & enamel on wood and metal 47" x 43.5" x 3.5" [installation view]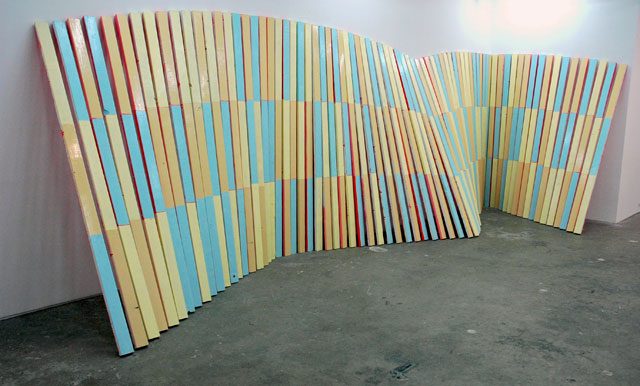 Cordy Ryman Third Wave 2008 acrylic on wood 96" x 274" x 79" (dimensions variable, up to 480 linear inches) [installation view]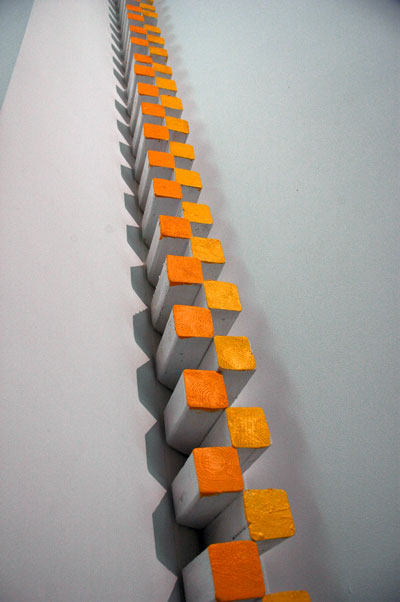 Cordy Ryman Yellow Spine 2008 acrylic on wood 130" x 3" x 5" as installed (dimensions variable, up to 144" x 3" x 8" overall) [large detail of installation]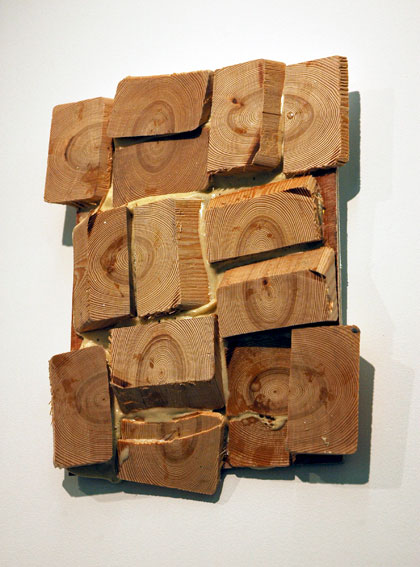 Cordy Ryman Raw Chips 2008 gorilla glue and wood 12" x 10" x 1.5" [installation view]
It's an appearance which I've been anxiously anticipating for months, or even longer: DCKT is currently exhibiting paintings, sculptures and installations by Cordy Ryman, the artist's first solo show in the gallery.
Ryman regularly wields hammer and nail, glue, staplers velcro strips and much more for what promises to be an infinite supply of solid forms and colored shadows in every size and shape. The work is composed of found pieces of (mostly) wood, finished (usually) with paint applied from a brilliant pallet with the confidence of a first-class AbEx. He balances drama and humor in the result, seemingly effortlessly.
My only quibble? The fact that, unlike some of his earlier outings, their were no droll surprises this time in the form of almost-hidden little pieces hiding about in the gallery's nooks and crannies. But it may be one of the best things the artist leaves with us: We're likely to keep looking for art - everywhere - even where we're not supposed to expect it.
LINK: conversation between Phong Bui and Ryman in the wonderful Brooklyn Rail