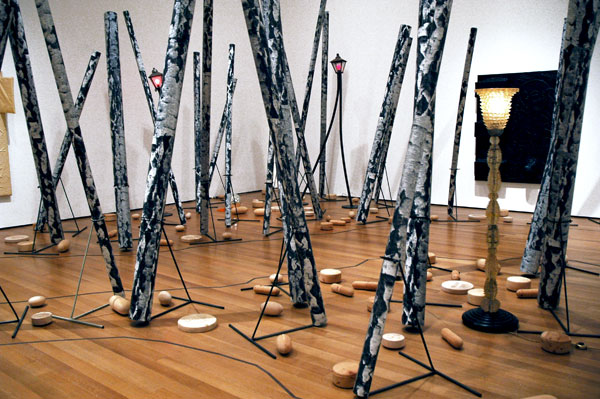 Martin Kippenberger Now I'm Going Into the Big Birch Wood, My Pills Will Soon Start Doing Me Good 1990 twenty-nine artificial birch trees (rolls of cardboard and plastic and black-and-white offset prints), metal stands and wood pills - dimension variable [large detail of installation, including "Kippenblinky", "Street Lamp for Drunks", "Untitled" (street lamp), "Disco Bomb", and parts of two rubber on canvas works hanging on walls to the right and left]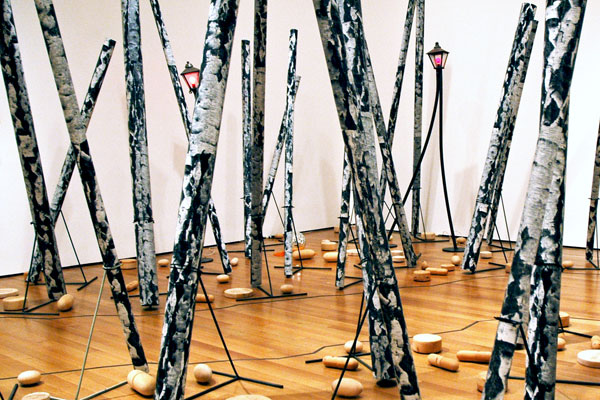 [cropped version of photo above]
I didn't include this image in my Kippenberger show post of two days ago because it seemed to me somehow adulterated for including works that were not actually part of "Big Birch Wood" itself, but which the curator, Ann Goldstein, had intermingled with the larger piece.
And yet, since I published Tuesday's entry, I've scrolled several times through the many images I took home with me, always finding myself being drawn back to the oddly-calming picture of these trees and oversize pills. I decided to try cropping the document to eliminate most traces of the other works. Then I wanted to share what I came up with, and that suggested this follow-up post.
But then something unexpected happened, barely two minutes before I started writing this paragraph. I had already decided I had to know more about why the installation had been given this shape so I did a little research on line, in the press materials, and in the George Baker's article on the Kippenberger show in the February Artforum, "Out of Position" [unfortunately not available on line]. As a result of what I learned, I made the decision to add a thumbnail of the original image below the full-size representation of my large detail.
By this time I had apparently arrived at a sufficient degree of enlightenment to see something that has escaped me earlier, because when I took another look at the un-cropped picture I couldn't understand why if had not satisfied me before. I reversed the arrangement I had just determined upon, so that now my preferred image is at the top. I left the cropped photo as a thumbnail mostly to show what I've been talking about here.
Ain't art wonderful?
I still don't know enough about this extraordinary artist's life and work to critique the curator's decision to meld several different disparate [?] pieces in this part of the gallery. I'm convinced however that Kippenberger's "Now I'm Going Into the Big Birch Wood, My Pills Will Soon Start Doing Me Good", largely because of its title, and its relationship to the artist's personal circumstances, is one of the saddest, sweetest, and yet grandest poetic expressions of Kippenberger's pain and his creative genius.
I've one more thing to share about Kippenberger right now, this quote from Ronal Jones, writing in Artforum in 1997 [I found it on Douglas Kelly's site] which captures his remarkable fecundity:
Someone was always mistaking Martin's solo exhibitions for a cattle-call group show. That pleased him no end.