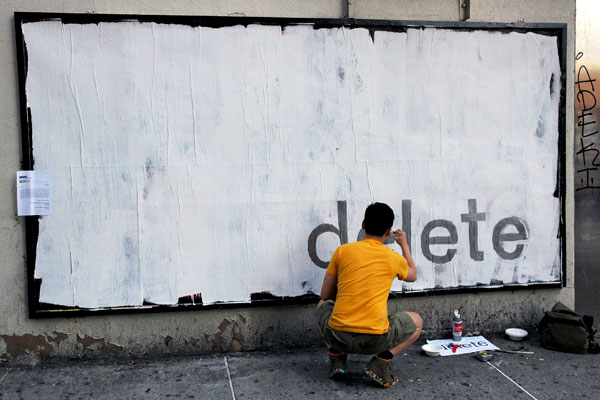 deleting the offense: first the white paint, then the message, in a classic font of course
Sometimes it seems that the canker of commercial advertising won't stop until it's succeeded in plastering every surface in New York, but now we learn that we don't really have to put up with all of it. Thanks to the alert folks at the Municipal Landscape Control Committee of New York City [MLCCNYC] (with the help of Eastern District, as I understand it) hundreds of illegal billboards put up all over the city by City Outdoor and NPA Wildposting have been spotted and are being rendered faceless by skilled, activist artists even as I write this.
Progress at just one of the sites is documented above, in a picture taken earlier this evening. The wall shown is on the west side of Eldridge Street, just below Houston. The letter attached to the frame of the illegal billboard is copied below.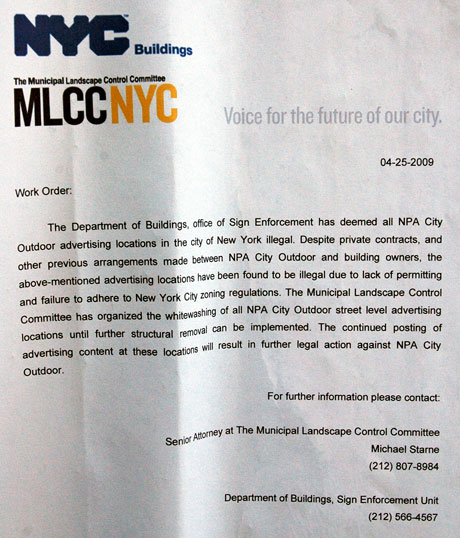 While doing some searching on line just now I found this spot-on paragraph posted by Jordan Seiler on the "Public Ad Campaign" site, outlining the proper concern of any New Yorker who is not personally a business or corporation:
Outdoor advertising in public spaces transforms those locations into environments intended for commerce and thus for private agendas. Maybe the subway was once a transportation system, but today it is a carefully crafted advertising distribution system with a controlled target audience. These NPA City Outdoor ads turn our city streets into private messaging boards sold off to the highest bidder. In the process, my interest in painting political messages about the failure of our city government is criminalized and my public voice silenced.
ADDENDA: The image I'm adding below shows what the wall looked like when it was completed. It's from the artist's own site. Ji Lee is seen painting in the picture at the top. Also, it now looks like the proper acronym for the project is to be NYSAT [New York Street Advertising Takeover], Eastern District wasn't really part of the project itself, and a concise description of the action can be found on the Wooster Collective site.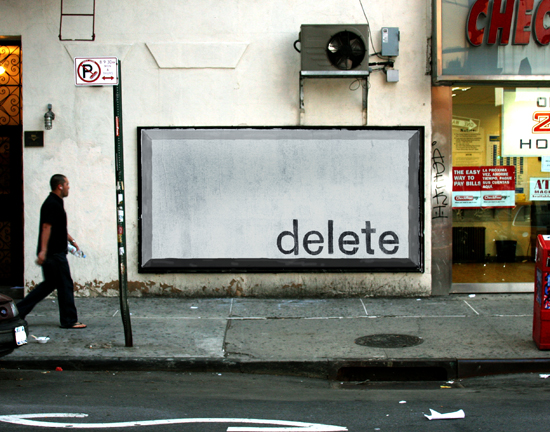 [third image from pleaseenjoy.com]