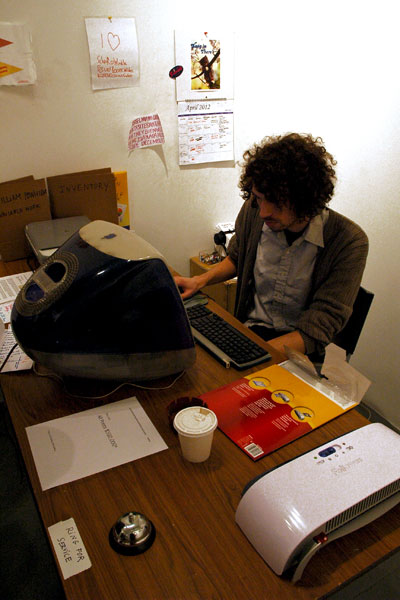 preparing for the ArtBaselMiamiDocumentaSiteSantaFeWhitneyBiennaleVeneziaNadaPulseScope Fair
The SchroRoWinkleFeuerBooneWildenRosenGosian Gallery, a combined project of guest curators Jennifer Dalton and William Powhida, is currently installed in the Schroeder Romero Project Space. The title of the show is, technically, "Art-Pocalypto 2012". It's a very successful and extremely funny satirical take on a familiar art market, one which was marked by the extraordinary extravagance of the recent past but which feels more like it's in the midst of a death watch in the present. The artists have created this remarkable space as both a combined real and virtual representation of the fictional skeletal remains of the entire "fabled Chelsea at district" as they imagine it will look in the year 2012.
Excerpts from the press release:
Since the gallery is one of the only outlets for contemporary art related products remaining in New York's fabled Chelsea art district, we will be exhibiting artworks by whoever we want.

As everyone knows by now, artists have not been able to produce any new art since the crash of 2009 due to shortages of art supplies as well as basic necessities. Dalton and Powhida will therefore be exhibiting 8" × 10" printouts of our very large stable of artists' pre-crash greatest hits which will be laminated on-demand. Make our day and ask if they are archival, that word helps us remember what used to pass for problems back in the day.

. . . .

Prints will be on sale for the low price of $500,000*. If we are lucky and supplies are available, we hope to be able to print in color. However, if we run out of fuel for the generator, the co-curators will make themselves available on selected Saturday hours to copy images by hand. Since child labor was decriminalized last year, we might even have the kids help out! You'd be surprised what they'll do for a cracker. Actually, by now you probably wouldn't.

And save the date! SchroRoWinkleFeuerBooneWildenRosenGosian Gallery will be exhibiting at ArtBaselMiamiDocumentaSiteSantaFeWhitneyBiennaleVeneziaNadaPulseScope this December.



*This is $20 in Spring 2009 dollars.
In schedules which slightly overlapped with SRWFBWRG, the two curators each enjoyed individual shows, in neighboring galleries, and neither was unrelated to their collaborative piece. In a show which closed at Winkleman last Saturday Dalton revisited her 1999 "The Appraisal" project with "The Reappraisal", in the hope of learning something about herself and her lifestyle through an investigation into the different dollar values very different authorities might attach to both. Powhida's delightfully messy installation at Schroeder Romero, "The Writing is on the Wall", is also something of a memoir, but of a more conventional sort, employing as it does both text and drawings, although for sure nothing about this artist can ever be described as conventional. Well, he is representing it as having been written "sometime in late 2009".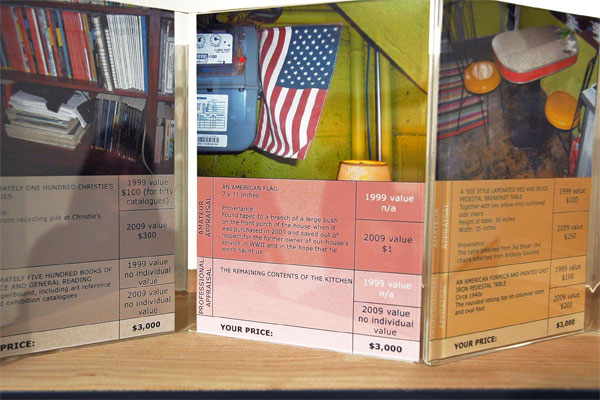 Jennifer Dalton puts all her stuff on the block [tiny detail of installation]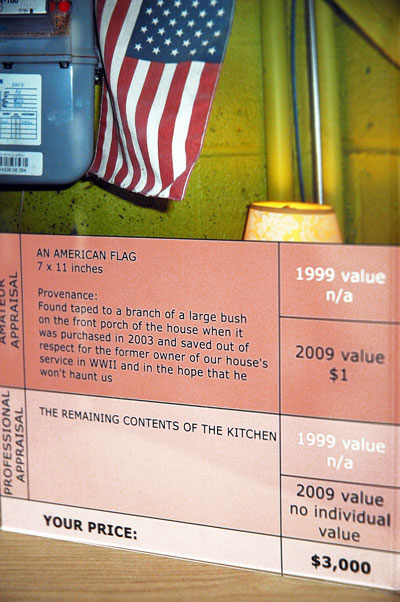 [detail of above]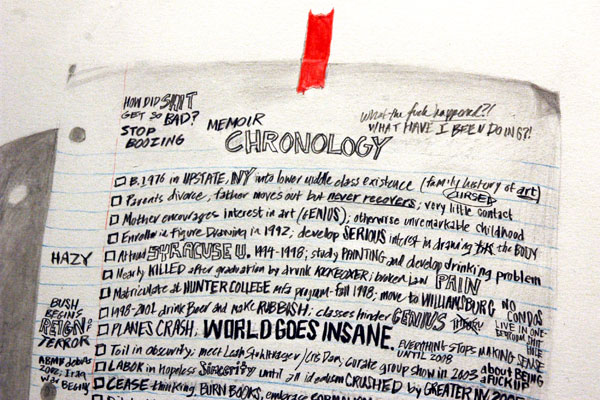 a section of William Powhida's personal chronology [detail of drawing in installation]