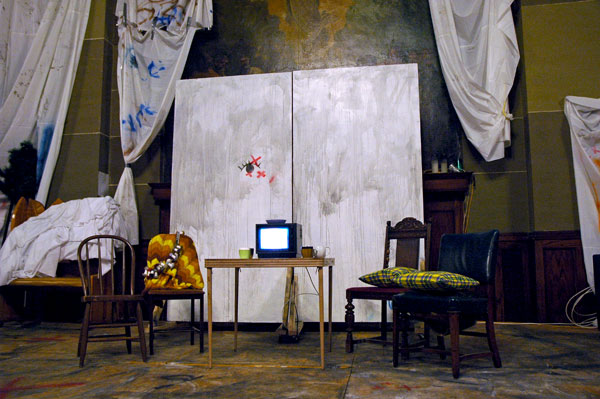 the flat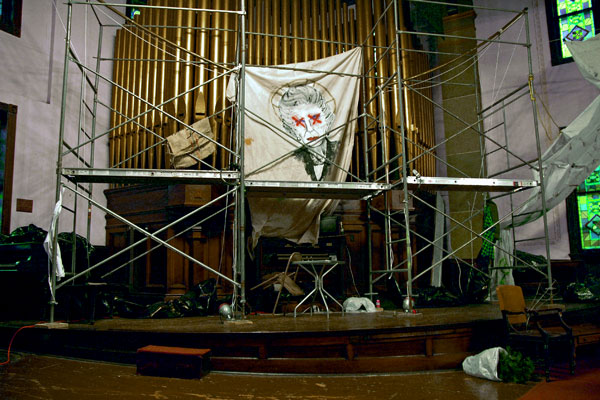 the caf
Barry and I both love Mark-Anthony Turnage's work, and we love our fifteen-year-old CD of his 1988 opera, "Greek", in which he reinvents the Oedipus myth in London's East End during the plague years of 1980's Thatcherian England, using a 1984 play by Steven Berkoff as a base. I don't think we ever expected to see a production of this exciting piece in the U.S., especially here in New York, where opera programmers and patrons haven't even begun to acknowledge the music of the last one hundred years.
We had already made arrangements for a trip to Chicago (from which we returned late last night) when we first learned that Chicago Opera Vanguard, a spunky young opera company, was staging "Greek" somewhere on the edge of downtown while we were going to be there. We would probably have traveled west just to see this work live but it appears that the ancient gods aren't dead yet and had secretly made the arrangements for us.
As it turns out, not only was the pleasure we got for our short trip out to Wicker Park Saturday night all out of proportion to the small effort we had expended, we would even have considered it worth the 1500 round-trip miles if we had made a special trip just for this particular "Greek".
No, there were no supertitles, so in the planned-chaos and fantastic mix of this thrilling staging some of the dialogue may have been lost, but the extraordinary beauty, intelligence, creativity and sheer exuberance of everything and everyone involved in the production made it one of the most exciting operatic performances I've seen. It doesn't hurt that the setting also summons the devils of our own contemporary plague years. And, yes, it really is opera.
The production was carved out of a somewhat eccentric late nineteenth-century "defrocked" (very appropriate, that) church, now the St. Paul Arts Center, with a wonderful and oddly-anachronistic avant-garde theater seating plan.
We arrived early to pick up our tickets and when I peeked through the doors to the theater space from the foyer where the "box office" was located I saw what appeared to be a set still in the making (scaffolding, buckets and sheets and such). Minutes later I saw instead that what I was looking at was actually a detail of the most thoroughly-broadcast set decoration operation I'd ever seen. The entire church was the stage for the opera, as we learned the moment it began, and that included the balcony above us, where music director/conductor Christopher Ramaekers and the nineteen members of the excellent orchestra were installed.
I took the images at the top, of two sections of John Sundling's wonderful set in this theater-kind-a-in-the-round, a few minutes before the performance began.
There were four excellent singers (and real actors!), and their moves (choreographed by Erica Reid) were augmented by a fleet and nimble crew of supernumeraries/stage assistants which managed to be everywhere doing just about everything an actor, dancer, properties person or technician could be asked to do. Philip Dawkins's costumes were spot on. I was enchanted by the kind of special effects (generally pretty low-tech) which might have intrigued a small eighteenth-century theater director, and the improvised magic lantern stuff was a terrific "stocking stuffer".
The cast:
Justin Neal Adair (Eddy), Ashlee Hardgrave (Mum/Woman/Waitress/Sphinx), Brad Jungwirth (Dad/Police Chief/Manager), Caitlin McKechney (Doreen/Woman/Waitress/Wife/Sphinx)

Sean Eweert, Dwight Sora, Cassie Vlahos, Kelly Yacono (in various roles)
Chicago Opera Vanguard appears to be basically the creation of its amazing composer/director, Eric Reda. The COV site describes the company's laudable mission:
Chicago Opera Vanguard is dedicated to exploring the delicate balance needed between performance, music, words, design and technology in order to make a truly immersive and transformative experience.

COV is commited to creating accessible and exciting theatrical experiences, both concretely and virtually, by producing new works, giving a second voice to important or overlooked modern pieces, and completely reimagining the standard repertoire.
There shouldn't be an empty seat in the house for something this good. Now that the work has received some awesome reviews, tickets may be hard to find for the last three performances, this Wednesday, Friday and Saturday.
For those who can't make it, I just found a listing for a DVD of a television production.

We definitely want to go back to Chicago, since we had such a great time and thought the people were great, but another COV production will definitely do it for us.