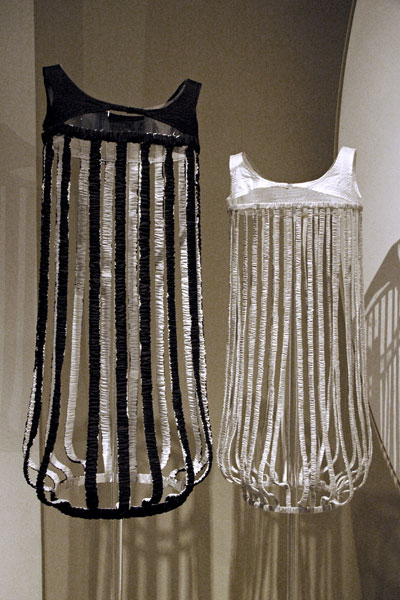 Harness dresses 2003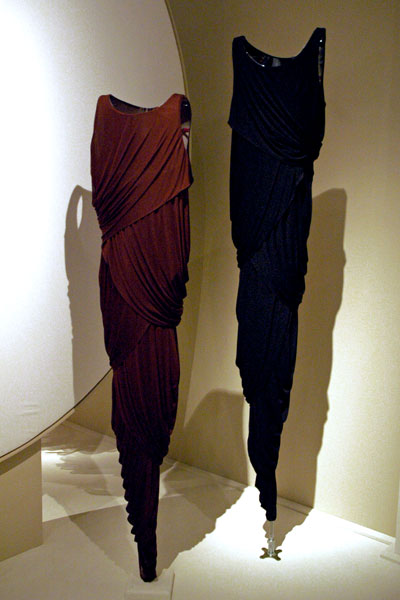 Half Moons Blossom into a Cornflower dresses 1998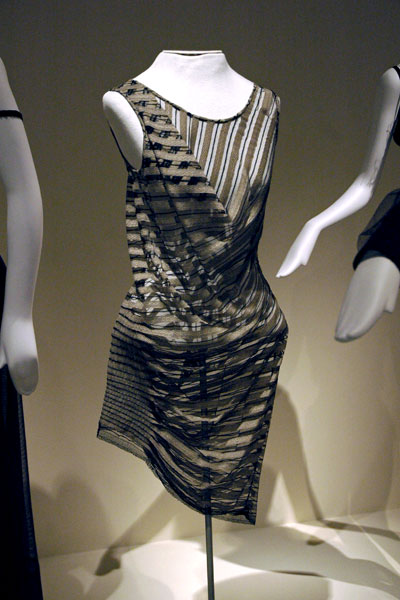 One Seam lace dress 1998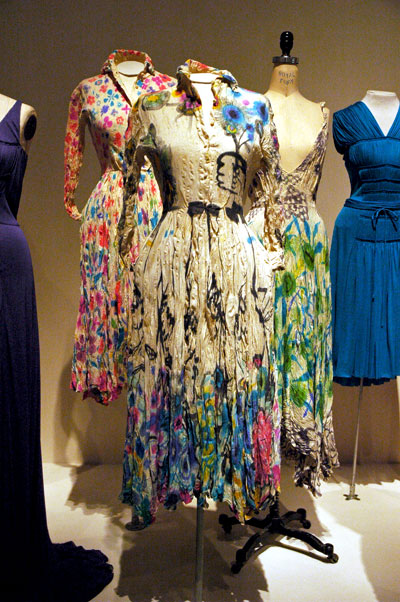 Broomstick Librarian shirtwaist dresses (hand-painted by Ruben Toledo) 2008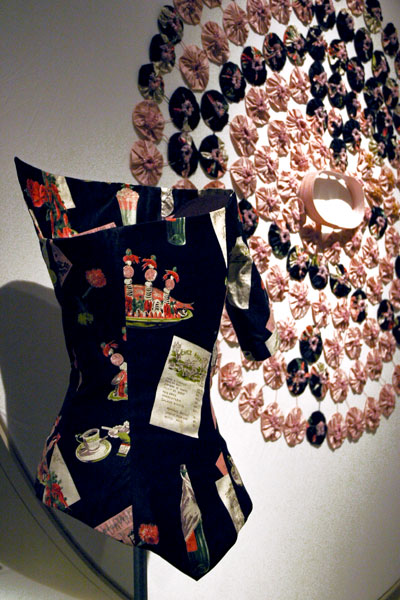 Pouch skirt and one-sleeve corset top 1988
I wandered over to the Museum at the Fashion Institute of Technology [FIT] this morning at dawn (okay, 10am) for the press preview of "Isabel Toledo; Fashion from the Inside Out". Why? Because I've always been interested in innovative and creative clothing of any kind, both historical and contemporary, and because I've been particularly enamored of Toledo's gentle art and the independence and originality with which this beautiful woman and her equally-beautiful husband and partner, the illustrator Ruben Toledo, have gone about making New Yorkers beautiful since the early 80's. I moved to New York in 1985, the year of Isabel's first show.
In many ways this mid-career retrospective is about both Isabel and Ruben. Isabel refers to herself not as a designer but as a seamstress, "the one who views fashion from the inside!" She describes her creative process as beginning with a feeling and an idea in her head which she describes to Ruben who then illustrates it in drawings.
Actually, I'd describe her as an architect as well - top-notch. Maybe that's what really brought me to the show.
"Isabel Toledo" opens to the public tomorrow. There are some wonderful moments, with great beauty and simplicity balanced by some serious humor and awesome complexity.
I was surprised to read in the press release that Toledo was "unknown to the general public" until Michelle Obama appeared in her ensemble on Inauguration Day. That "lemongrass yellow wool lace shift dress with matching overcoat " is installed behind glass and next to a guard at FIT, and to most of the journalists present this morning it was obviously the most important piece in the show, even if it was certainly the most conservative and otherwise the least remarkable.
But should it be a surprise that the cult of personality is very much alive in the world of fashion? Still, while I'm happy for this beautiful couple that the inevitable installation of this dress and coat within the Smithsonian Museum won't hurt their visibility, anything approaching popular hysteria still seems pretty alien to the more subtle art of the rest of the work installed inside the museum on Seventh Avenue.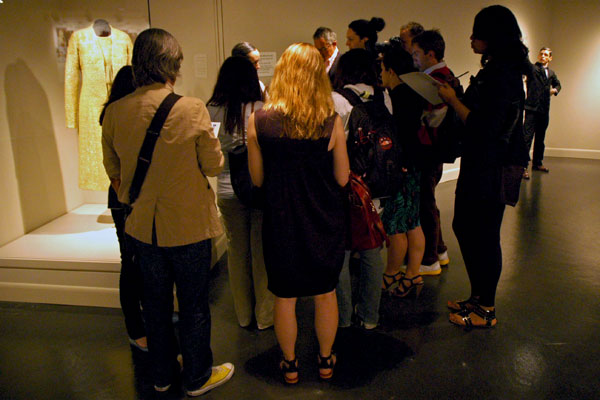 Isabel meets the press in front of "the ensemble" as Ruben records the moment