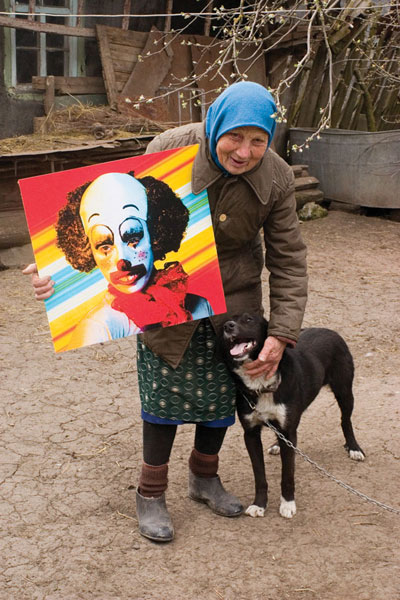 SOSka Group Barter 2007 digital print
We weren't in DUMBO long enough for the judgment to mean an awful lot, but for both Barry and I the highlights of our visit on Saturday to the "Art Under the Bridge Festival" were several of the pieces shown in the video_dumbo space and the Cardboard Gallery down the block, which hosted "Barter", an installation of a work by the Ukrainian art collective SOSka Group.
In another world, how many eggs would you trade for an image created by Lichtenstein? How many buckets of potatoes for that Komar and Melamid? Which of your laying hens would you give for the Cindy Sherman?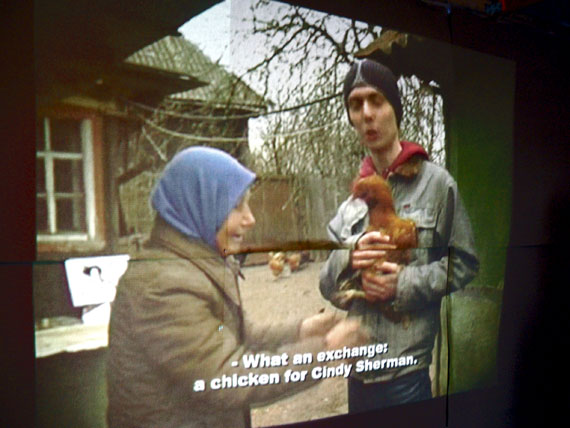 From the Cardboard Gallery's announcement:
In SOSka's video Barter (2007) the artists arrive at a local village and set up a display of artistic reproductions by Chuck Close, Cindy Sherman and others in hopes of trading them for food with the local farmers. While the video offers a playful glimpse into the perceived value of art, it also provides a telling social commentary about conditions in post-soviet Ukraine from the point of view of those who are insulated from the geo-politics of the western cannons and from the contemporary art world, including the artists themselves. The video will be accompanied by a series of photographs that document of the farmers posing with their selections and interior shots of where and how they have chosen to display these works in their homes.
The video itself is totally compelling on a number of levels. Its conceptual question, addressing the commodity value of iconic contemporary art images once they have been removed from their cultural origins, is hardly more riveting than its documentation of some compelling people inhabiting a very different culture, to whom these images are introduced as "pictures". Notice how carefully these people think about the art; they tell us why they like it, and even where they're going to put it.
I wanted the grainy moving pictures to go on and on, and more than that, having traveled in other countries through rural villages not unlike Velyki Prokhody, I envied the artists their opportunity for engagement.
You can watch the entire video here, but you'll miss out on the ambiance inside the cardboard box where we saw it projected.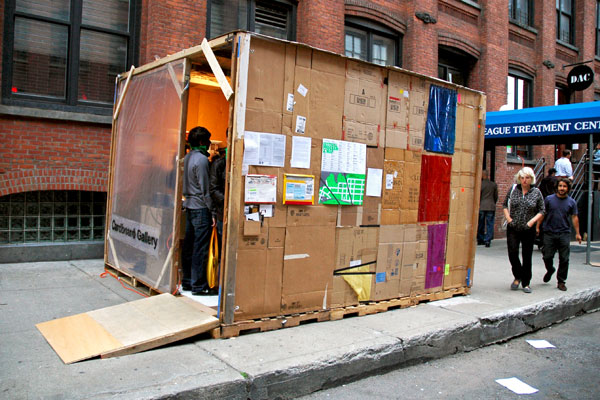 There's more information on SOSka here, and you can find the home page of the Cardboard Gallery here.
[initial image from newcityart]