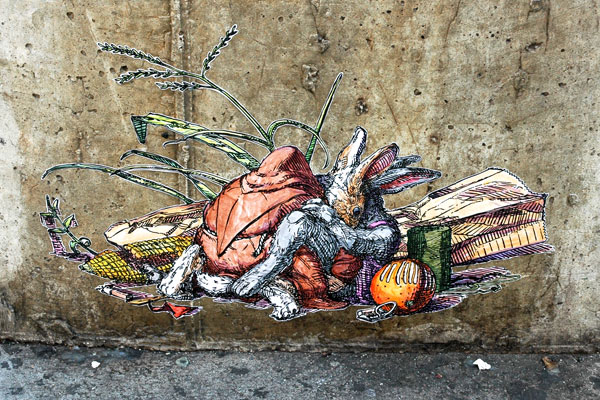 Elbow-Toe Divine Hammer 2009
I spotted this curious image on my way to the Union Square Greenmarket this afternoon. It appears to be a monkish hare coupling with another (boy?) hare in the middle of some scattered groceries. It's about two feet wide and the medium is that of a tinted b&w sticker attached to the concrete base of a lamp pole at the northwest corner of the square. I know I should recognize the indecorous artist, but I don't.
UPDATE: Hrag Vartanian infoms me the artist is Elbow-Toe, and that the Wooster Collective has a post about the piece here, indicating that its inspiration is Rembrandt's "The Monk in the Cornfield" (with farmer or milkmaid?)
An image of another, more sylvan, installation, this one in Brooklyn, appears on myloveforyou.