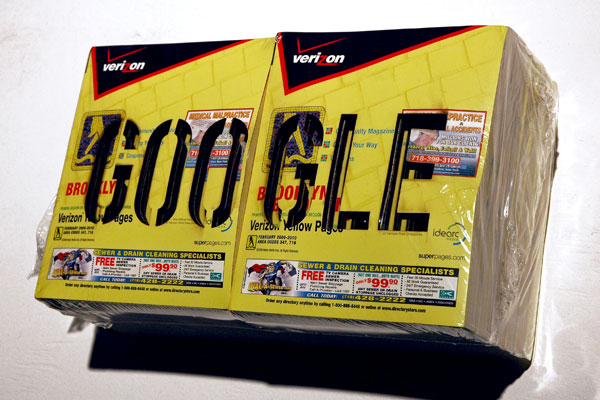 Michael Mandiberg GOOGLE 2009 shrinkwrapped laser cut Brooklyn yellow pages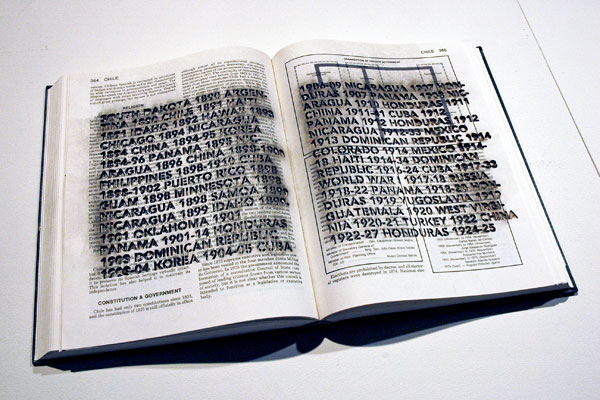 Michael Mandiberg We have never had a year of peace 2009 (in progress) laser cut 3 volume edition of the Encyclopedia of the Third World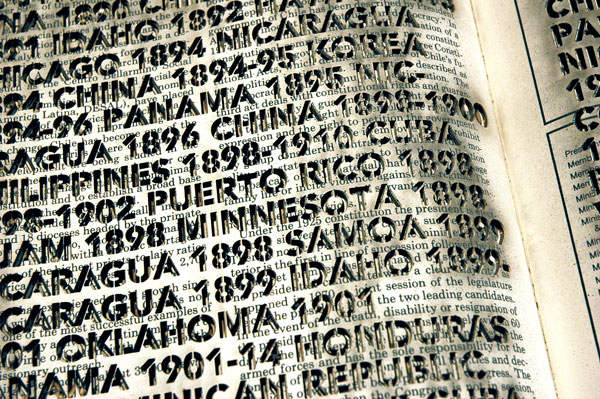 [detail]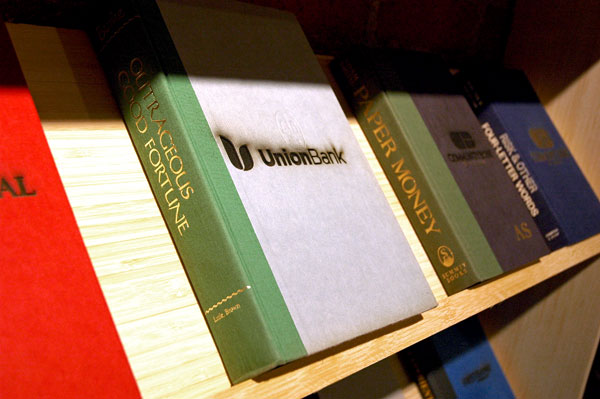 Michael Mandiberg FDIC Insured 2009
Michael Mandiberg has just finished assembling a handsome installation of his work at Eyebeam. It apparently represents only some of the work he has been doing over the past six months.
Barry and I had a preview of the installation on Monday. Although not currently open to the public except by making arrangements with the artist (see below), this work, along with that of Eyebeam artists In residence, student residents, and other senior fellows can be seen during Open Studios: Fall 2009, scheduled for the afternoons of October 23 and 24, between 3 and 6 each day.
Mandiberg's one dozen separate pieces consist primarily of old, found books cut with a laser, handsomely shown individually or assembled in groups of two or more and placed on the artist's own constructions.
Mandiberg goes where no laser cutter has ever gone before. Some of the work physically and dramatically distinguishes important newly-established contemporary technologies from their aging or defunct antecedents (many of which could once have been described as cutting edge themselves), The result is a visual dialogue charged with the passage of time and composed in the empty spaces we see "written" in and on various kinds of reference books.
One piece, a work in progress (surprisingly, lasers take their time), is titled "We have never had a year of peace". When finished it will comprise the three volumes of the "Encyclopedia of the Third World", lying on their spines next to each other, open at a random page in the middle where the artist has deeply burned the name and year of every war fought by this peace-loving republic since 1890.
Another body of work consists of a wall display of cast-off volumes describing how to make money. Mandiberg has "whittled" with a laser into their hard front covers to describe the logos of, according to the artist, "all of the failed banks of the Great Recession".
Not directly related to the re-worked dictionaries, encyclopedias, phone directories, or investment monographs are some breathtaking laser-cut drawings of the security patterns ordinarily found printed inside those familiar small mailing envelopes used by banks and similar institutions.
Those interested in seeing more images, or in visiting the space where these exquisite, yet powerfully-resonant pieces are installed, should go to the dedicated page on the artist's own site, where he advises:
Eyebeam is currently closed to the public, but if you would like to see this installation you have two options. Contact me ([email protected]) to set up a time to meet, or come by the Eyebeam Open Studios, which will be October 23rd and 24th from 3-6PM.