The only way I'm going to be able to show images of even a portion of the more interesting shows I've already seen this season is to go over them in a short series of entries, each combining a handful of exhibitions, and to include only a picture or two, the identity of the the artists and the venues, and a very few words.
I'll proceed, roughly, in the chronological order of my visits.
Genesis Breyer P-Orridge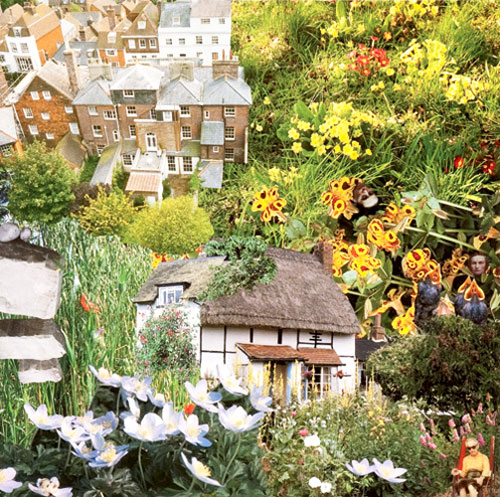 Genesis Breyer P-Orridge Thee Fracture Garden 1995 mixed media 12" x 12" (on 20" x 16" Arches paper)
Invisible Exports's show of work by the legendary and heroic artist and performer Genesis Breyer P-Orridge, "30 Years of Being Cut Up", closes on Sunday (October 18th). I took this shot of the radiant artist during the opening reception last month: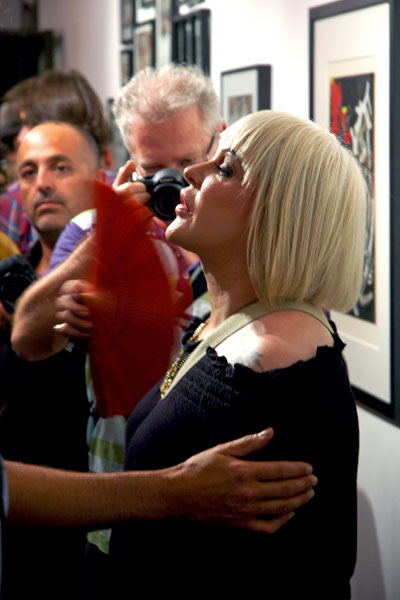 [first image from Invisible Exports]
The Bruce High Quality Foundation University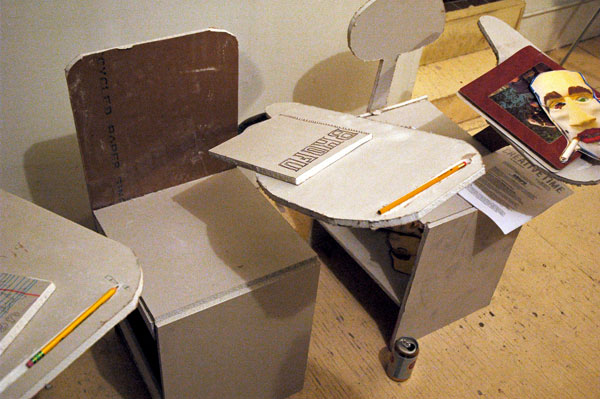 awaiting creation
Flush with the accolades of the academy which it critiques, the creative, enterprising and inspired Bruce High Quality Foundation is expanding its role and operations into pedagogy itself. On September 11th the art collaborative's latest (and perhaps inevitable) creation, the Bruce High Quality Foundation University (BHQFU), opened the West Broadway doors of its new operation, hosting a reception for its fans and any number of potential matriculates, both learning-thirsty and insurgent.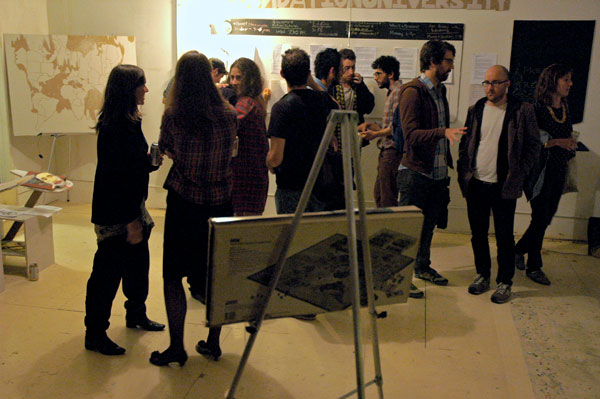 engaged
Jade Townsend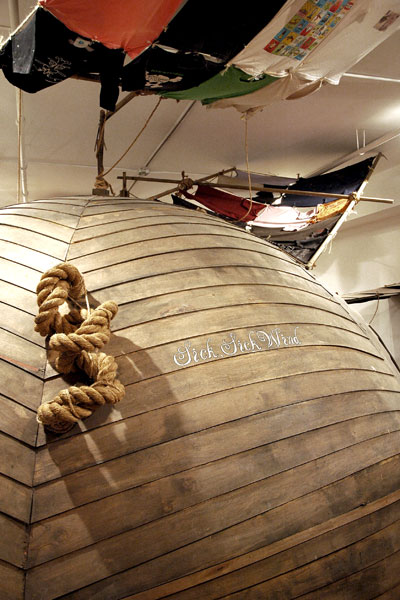 Jade Townsend Sick, Sick Wind 2009 installation, variable dimensions [detail of installation]
I'm showing an image of Jade Townsend's pig-shaped battleship, the centerpiece of his show, "Sick Sick Wind", at Priska Juschka. It closed today but I'm sharing it now not just because it was an extraordinary construction, but because it gives me an excuse to delight in the memory of Duke Riley's Naumachia, of which it was a particularly dramatic part.
"Heartbreak Hotel" at Freight & Volume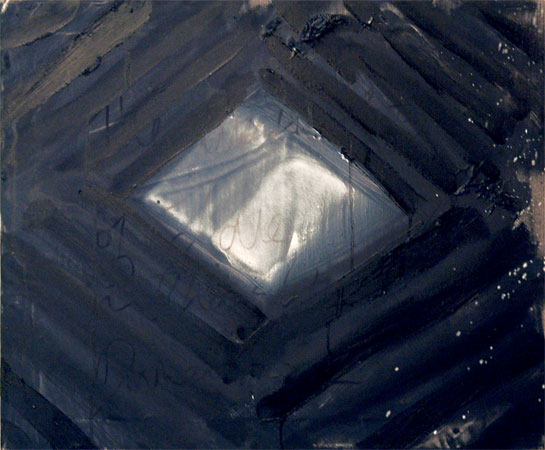 Kadar Brock The Impossibility of Love in the Fourth Dimension 2009 oil, marker and spray paint on canvas 20" x 24"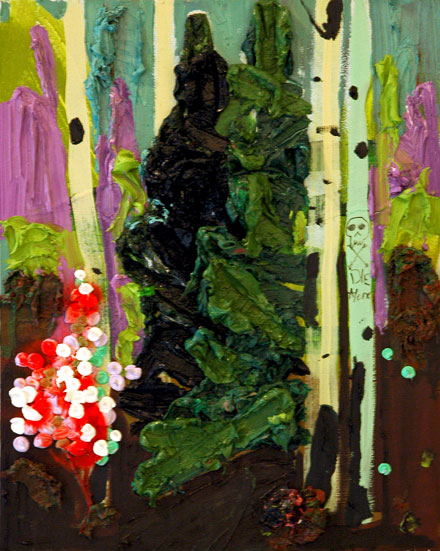 Kim Dorland Untitled 2009 oil on panel 20" x 16"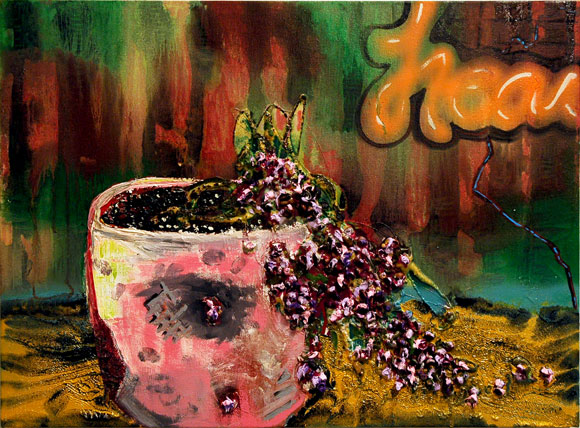 Lucas Moran Neon & Lilacs 2009 oil, gorilla glue and acorn tops
This group show actually closed on August 12, just before the fall season opened in earnest, and that was the day I visited it. As a late summer show, it was pretty much below the radar for most gallery visitors; I thought it deserved much more notice than it must have gotten, so I'm posting a few images. "Heartbreak Hotel", at Freight & Volume, included new work by Fanny Allié, Erik den Breejen, Kadar Brock, Kim Dorland, Andrew Guenther, Jonathan Hartshorn, Annamarie Ho, Peter Hutchinson, Min Hyung, Misaki Kawai, Peik Larsen, Jim Lee, Lucas Moran, Danial Nord, Daniel Ranalli, Max Razdow, Michael Scoggins, Russell Tyler, Tabitha Vevers, Eric White and John Yau.
"The Female Gaze" at Cheim & Read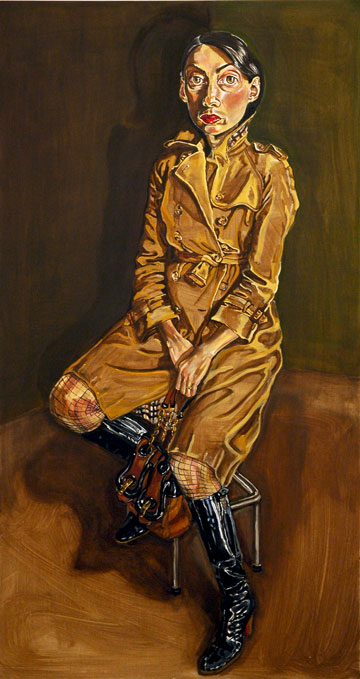 Anh Duong The Lure of Disillusion 2008 oil on canvas 85" x 45" [a self-portrait]
The Cheim & Read exhibition, "The Female Gaze: Women Look at Women", also closed in (late) September, but it had settled into the gallery for a blessed three months, encouraging return trips. Barry and I went only twice; it wasn't enough.
The artists included were Berenice Abbott, Marina Abramovic, Ghada Amer, Diane Arbus, Vanessa Beecroft, Lynda Benglis, Louise Bourgeois, Kathe Burkhart, Julia Margaret Cameron, Victoria Civera, Rineke Dijkstra, Marlene Dumas, Anh Duong, Judith Eisler, Tracey Emin, Ellen Gallagher, Nan Goldin, Katy Grannan, Jenny Holzer, Roni Horn, Chantal Joffe, Deborah Kass, Maria Lassnig, Zoe Leonard, Sally Mann, Marilyn Minter, Joan Mitchell, Alice Neel, Shirin Neshat, Collier Schorr, Joan Semmel, Cindy Sherman, Mickalene Thomas, Hannah van Bart, Hellen van Meene, Kara Walker, Francesca Woodman and Lisa Yuskavage.
It occurred to me just now that, since the gallery's partners, John Cheim and Howard Read, do not mention the name of the curator in their press release, this awesome show was itself almost certainly the product of a male gaze: Maybe there's hope for us all.
[image from Cheim & Read]