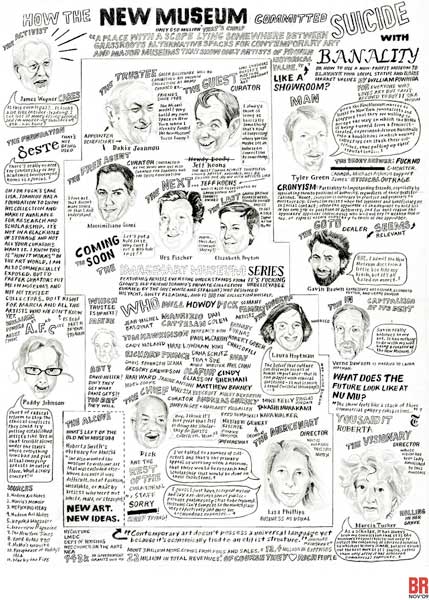 go to large, high resolution image here
Sometimes a picture really is worth a thousand words, especially if it's been drawn by William Powhida. The artist's editorial cartoon, addressing the current weird curatorial course of the New Museum, completely fills the cover of the Brooklyn Rail out tomorrow.
I wrote this post back on September 25th, immediately after reading the NuMu's press release announcing a metamorphosis which will find it installing a series of museum-wide shows displaying the collections of one or more of its own wealthy trustees and curated by those collectors' favorite wealthy artists.
I followed it with this related entry.
From the beginning I was sure this story had legs, but then I noticed almost no one wanted to talk or write about it, even if they were as outraged as I was. Now I think its time has finally come. Thanks, William.
Pick up a copy of the Rail if you live anywhere near one of the outlets. If not, and if you have some coin, you can subscribe (to what I think is the most vital and definitely the most beautiful magazine published anywhere) here.
[image courtesy of the artist and the Brooklyn Rail]