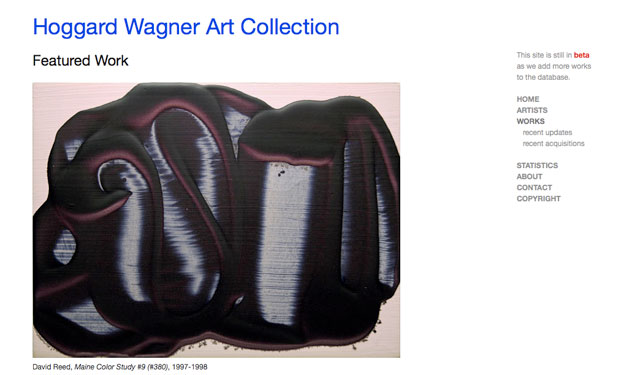 the rotating "Featured Work" page on the collection site, "grabbed" today, February 15
Barry and I have been working over many months on an online catalog of our own collection in order to make it visible to a larger public. The Hoggard Wagner Art Collection site is intended to serve the work itself, the artists who created it, and the people with whom we can now share it.
We expect that the collection, not including future acquisitions, will exceed well over 1000 items when we have finished documenting it.   Although it seems we have barely begun, we're fully committed to the entire project.
Those elements of the site that have been finished can now be seen on line. The "about" page will provide more information and context.
RELATED: It's only a coincidence that we were first able to activate the site (although it's still in beta form) just before the beginning of a month of programs at Winkleman Gallery devoted to a general reconsideration of the art market in the aftermath of its virtual collapse and the attendant threat to the integrity of museums and other arts institutions [see the blog for the "show" here]. The timing of these ambitious programs, organized by William Powhida and Jennifer Dalton under the rubric, "#Class", is not a coincidence: They are intended to coincide with the opening of the Dakis Joannou/Jeff Koons New Museum show.
[Disclosure (to be more fully-elaborated in a later post): Barry and I will be a part of "#Class", with a panel/room discussion on February 27, "Collecting with Your Eye, Not Your Ears"]